One can be romantic about the good old fashioned road trip. There are no plans, no timetables and no worries. Never knowing which outcome you'll be handed though is all part of the fun.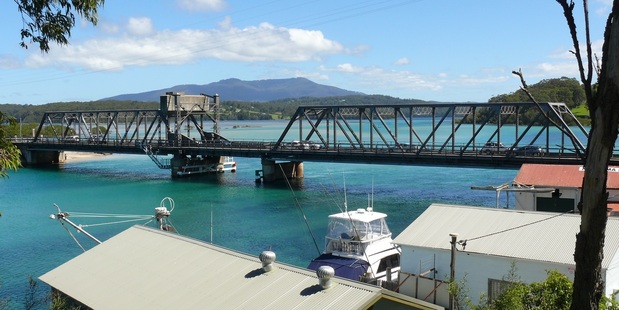 When you pack up house and hit the bitumen during peak holiday season, romantic visions of empty surf breaks and isolated beaches rarely come to fruition. You can be stuck up a creek without a paddle, or in this case, a road without a campsite.
When faced with a packed campground at Congo, on the NSW south coast, there's the realisation I may be spending the night at a highway truck stop.
That was until we turn off the Princes Highway toward a town of about 2000 residents called Dalmeny.
You drive into the town along Dalmeny Drive. To your left there are glimpses of Lake Mummuga through trees lining a foreshore park. To your right houses sit on a rising hill.
As you continue driving, a tiny community comes into view, with an ocean-view campground as its star.
We immediately spot two large, empty corner sites and we're in luck - one is available.
At the peak season price of NZ$41 a night (unpowered), our home for the next few days has a view of Brou Beach (also called Dalmeny Beach) and the tidal lake.
Dalmeny Campground is in a fabulous position overlooking the beach and Eurobodalla National Park but directly opposite is a children's playground, small supermarket, newsagent, coffee shop and seafood supplier.
It's a gem and clearly one families in this part of the world have known about for a while. It's busy yet still slow-paced and chilled-out.
Surrounding our site are bunches of young parents holidaying with their kids, who are intent on having their own wood fires and riding scooters along the coastal pathway across the road.
In the mornings, the children are joined by early walkers, while surfers and fishermen pull up to check beach conditions.
A stroll along the path to the south reveals other surf beaches such as Yabbara and a long stretch that is Kianga - popular with kitesurfers.
It's a beautiful but also interesting walk as it leads you all the way from Dalmeny to Narooma, featuring storyboards along it's 6km length.
If you enjoy exploring, make sure you head over the timber footbridge from Dalmeny to Brou Beach and head north.
A local surf school and young children will occupy the tidal lake's mouth and southern break but walk a kilometre north and it's likely you'll have the rest of the beach to yourself - even in summer.
If you tire of the sand, make your way to Narooma, 10 minute's drive south back on the Princes Highway.
Turn right after Narooma Bridge and you'll come to The Quarterdeck. It's an old boatshed that's been converted into a cafe and live music (mainly blues) venue on the water.
The atmosphere is great - orange and yellow tables sit beneath glass buoys and aged ceiling fans. The walls are decorated with fisherman flotsam - crab pots, old wetsuits and flippers.
For lunch, try the very large servings of pesto parmesan-crusted dory, the seafood salad or the battered fish n' chips.
You can easily pass a few hours at the Quarterdeck, watching boaties and kayakers on the aqua Wagonga Inlet.
Back in Dalmeny, thoroughly relaxed, be sure to order a kilo of cooked prawns from the guy who does the rounds of the campground in the afternoon and put them in your esky for dinner that night.
Then sit back in your camp chair, with a cold beer or book, or both, in hand and be thankful for the good old fashioned road trip.
IF YOU GO
GETTING THERE: Dalmeny is a small coastal town in the NSW south coast. It is 10 minute's north of the larger Narooma.
The closest city is Canberra, about two hours and 45 minutes (210km) to the north-west. Sydney is 4.5 hours (340km) away.
STAYING THERE: Dalmeny Campground can't be missed, overlooking the main beach and next to the town's few shops.
The are large powered and unpowered sites suitable for tents, camper trailers and caravans. There are also hot showers, clean toilets and firewood for sale.
Site fees per night for two adults start at $25 (unpowered) and $29 (powered) during the off-season.
PLAYING THERE: You can surf, paddleboard, kitesurf, fish, kayak, snorkel and bushwalk in the Eurobodalla National Park.
You can also bike ride along the 6km Narooma to Dalmeny Cycleway.
For dining, head into Narooma to The Quarterdeck. It can be found at 13 Riverside Drive and is open Thursday to Monday for breakfast, lunch and coffee.
For information on the area visit these websites: dalmenycampground.com.au, eurobodalla.com.au and visitnsw.com.
- AAP

Getting There
Fly there with Air New Zealand Book now
Find out more at Australia.com