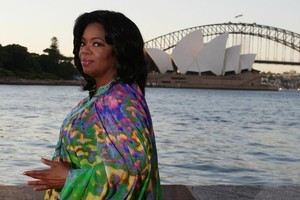 Tourism authorities are planning to get the most bang for their buck from the Australian visit by television star Oprah Winfrey, announcing a new campaign in the United States.
Tourism Australia said it would launch a A$5 million ($6.5 million) marketing push into the United States to try to capitalise on last month's visit by Winfrey, who described herself as the "unofficial ambassador for Australia".
As part of the marketing campaign, Tourism Australia and its partners will launch promotions including value-added holiday packages and a so-called "walkabout" campaign with Qantas targeting time-poor Americans.
There will also be a promotion targeting US youth by highlighting the Australian working holiday visa available to under-30s.
Tourism authorities will spend US$1.5 million ($1.97 million) on an "ultimate Aussie holiday sale" to be advertised during each of the four special Oprah shows, and in other media.
Piggy-backing off the campaign will be other marketing activities in countries where the Oprah Winfrey Show is broadcast, including Britain, New Zealand and Canada.
Tourism Australia reportedly paid A$3.5 million ($4.6 million) to bring Winfrey to Australia, while state governments also chipped in funds.
Managing director of Tourism Australia, Andrew McEvoy, said his organisation and its partners were putting out "outstanding deals" to convert excitement over Winfrey's visit into firm holiday bookings.
"The Oprah screenings provide an unprecedented opportunity to showcase the best of our country to people in Australia and many of the other 145 countries where the show will be broadcast," he said.
"Especially the US where the show is watched by 40 million viewers alone."
- AAP