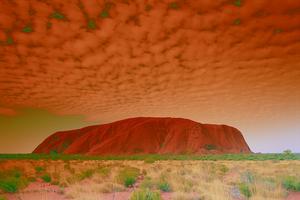 French exotic dancer Alizee Sery did more than just make headlines when she stripped at the top of Uluru in what she claimed was a tribute to the greatness of the vast sandstone monolith and its traditional Aboriginal owners.
She also started a trend.
Pictures of the semi-naked 25-year-old have been joined by others of a naked man posing beside a cairn on the sacred rock, and of Australian sports and media star Sam Newman belting a golf ball off its peak.
The run of what traditional owners regard as serious insults to their beliefs and culture has renewed pressure to close Uluru to climbers ahead of a planned phase-out of the arduous trek.
Uluru, rising almost 350m above the surrounding desert 200km southwest of Alice Springs, has been sacred to the Anagu people for 10,000 years and is one of Australia's most important traditional sites.
Its traditional owners do not climb the rock because of its significance in creation beliefs, including a Dreamtime track crossed by the track climbers follow to the peak.
A sign asking visitors not to climb the World Heritage site is ignored by thousands of tourists a year. Traditional owners also fear for the safety of climbers on a track that has killed more than 30 visitors and is frequently closed by extreme heat, rain or high winds.
Uluru and the surrounding national park were handed back to the traditional owners in 1985 under an agreement that included joint management and a 99-year lease to the National Parks and Wildlife Service.
So far, with more than 350,000 tourists pumping about A$400 million ($472 million) a year into the Northern Territory economy, efforts to close the climb have failed.
But a new management plan approved in January by Environment, Heritage and the Arts Minister Peter Garrett might spell its eventual doom.
Under the plan the climb would be closed if the number of tourists making the trek to the top fell below 20 per cent of the total visiting the national park, or if the climb was replaced by other attractions as the main reason for visiting the region.
Garrett, expressing sympathy for the view of traditional owners - but not yet agreement for closing down the rock - said he expected the climb to remain open for "at least a number of years".
The stunts of Sery, a naked tourist called Jordan van Haaren and Newman have renewed calls for faster action after their pictures appeared in the Northern Territory News - and Newman's also on Melbourne Talk Radio's website.
David Ross, director of the Central Land Council, which represents indigenous communities across more than 700,000sq km of central Australia, said the stupidity of their acts were indicative of many people who climbed Uluru against the wishes of its traditional owners.
"There are still too many people who insist that it is their right to climb Uluru," he said.
"It's not. It is dangerous, it is offensive and it is wearing a visible scar on the face of a place sacred to its traditional Aboriginal owners."
Greek-born NT Health Minister Kon Vatskalis said Aborigines had every right to be furious, asking how French people would feel if an Australian danced semi-naked on the altar of Notre Dame Cathedral in Paris.
"I tell you what, Greece would be outraged if this happened on the Parthenon," he told the NT News.
Newman's decision to tee off from the top of Uluru ignited further anger.
Newman is a former Australian Rules star and AFL Hall of Fame inductee, nationally known through his appearances on Channel Nine's The Footy Show.
Aboriginal activist Mick Mundine said Newman had made a mockery of indigenous culture and reinforced the case for the closure of the climb.
He was joined by Aboriginal football greats, including former star Gilbert McAdam, who won the Magarey Medal as South Australia's fairest and most brilliant player.
"If [Newman] respected Aboriginal culture then he wouldn't have done it," McAdam told the NT News.