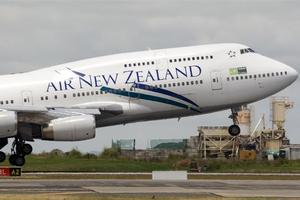 A proposed alliance between Air New Zealand and Virgin Blue has both companies promising lower fares.
Virgin Blue co-founder and chief executive Brett Godfrey said the alliance would deliver cheaper transtasman fares for travellers.
"At the end of the day, airlines can only offer low fares if they have low costs and the lower your cost, the lower you can actually afford to sell your seats for."
The companies today revealed plans for a transtasman alliance, with the two aviation rivals hoping to join forces on all flights between New Zealand and Australia.
The alliance plan will include code sharing, revenue sharing, collaboration on routes and product planning, along with joint frequent flyer programme benefits.
In a statement just released, Air NZ says the proposed alliance "will allow the airlines to strengthen their competitive offering on the transtasman and to collaborate on future route and product planning, code sharing and frequent flyer programme benefits".
The airlines are about to file applications with the Australian Competition and Consumer Commission and the New Zealand Ministry of Transport.
Regulators are expected to take around six months to review the applications.
Virgin Blue chief executive Brett Godfrey and Air NZ chief executive Rob Fyfe said in the announcement that "the alliance would deliver transtasman travellers cheaper airfares, increased frequency, better connections, loyalty scheme reciprocity and expanded lounge access."
Godfrey said the alliance would "stimulate a new wave of competition in Australasian aviation".
"A great alliance should deliver great value and consistent product and service standards and that is where we will make new inroads," he said.
The airlines said that while the proposed alliance was a significant development for both carriers, "it will not impact or place restrictions on any existing partnerships or alliances of either airline."
The proposed alliance will connect regional centres in Australia and New Zealand but only as part of a Tasman journey and will not include domestic-only travel in either Australia or New Zealand.
The airlines say the deal "is not a signal of intention by Air New Zealand or Virgin Blue to take a shareholding in the other".
Professor Tim Hazledine, an economist at the University of Auckland's Business School, studied Air NZ's last ill-fated attempt to set up an alliance with Qantas.
That proposal was rejected by competition regulators as being anti-competitive.
Hazeldine said his initial thoughts - based only on the information provided by the airlines today - was that the ability for each airline to sell tickets on the others domestic network should be good for consumers.
This would allow New Zealanders, for instance, to buy tickets on Virgin's domestic network in Australia.
On the wider trans-Tasman routes, the co-operation would be close, with joint marketing, ticketing and combined frequent flyer and lounge access.
There was probably a greater chance of getting an arrangement between Air NZ and Virgin approved than the previous proposed tie-up between Air NZ and Qantas, said Hazeldine.
This was because Air NZ and Qantas were the two biggest airlines on the route, dominating the Tasman. While an alliance between Virgin and Air NZ would lessen the number of competitors, it would have less of an impact than the two biggest players jointing together.
Hazeldine said it would be interesting to see how Air NZ would 're-angle' some of its previous arguements in favour of an alliance which it used to try and get the Qantas deal approved.
During those hearings, it said the presence of a low-cost carrier like Virgin Blue would keep any Air NZ-Qantas alliance from over-charging passengers.
House of Travel retail director Brent Thomas said the travelling public would benefit through competitive pricing, while the inbound tourist market could reap the rewards of more people wanting to travel to New Zealand from Australia for the ski season.
The airlines have outlined four key components to their deal:
1. A "broad free-sale code share arrangement" - which means both airlines selling tickets for the other under its own airline code - covering:
• All Tasman sectors currently operated by either airline
• Domestic Australian sectors as part of a connecting Tasman journey
• Domestic New Zealand sectors as part of a connecting Tasman journey

2. A "revenue allocation agreement" under which:
• Revenue generated across all Tasman sectors currently operated by either airline, or which may be developed under the agreement, will be allocated between the two carriers, and;
• A joint trans-Tasman "Network Planning & Revenue Management Team" representing both airlines will oversee the Tasman operation
3. A frequent flyer co-operation agreement that will provide reciprocal loyalty scheme benefits to members of Air New Zealand's Airpoints loyalty programme and Virgin Blue's Velocity Rewards programme.
4. A lounge co-operation agreement that will ensure lounge access to qualifying guests of either airline.
Last week the Centre for Asia Pacific Aviation said an alliance between Air New Zealand and Virgin Blue in the trans-Tasman market would concern Australian airline giant Qantas and its budget airline Jetstar.
The centre noted previous attempts by Qantas and Air New Zealand to work together did not work out, but that former Qantas executive Borghetti was an architect of them, and he was moving to Virgin Blue.
The competition implications were complex. The two airlines accounted for all of the trans-Tasman seats available from Dunedin. They also had a large collective share of the market between Cairns and New Zealand, the centre said.
But trans-Tasman flights to Auckland were well balanced between airlines and the market was highly competitive.
"The Tasman should not therefore be a major stumbling block from the regulatory perspective," the centre said.
Virgin Blue was a genuine low cost carrier evolving into a full service airline, while Air New Zealand was a full service flag carrier becoming low cost.
Air New Zealand needed to do something because it was uncomfortably positioned about halfway between Qantas and Jetstar prices.
Air New Zealand's main advantage was its comprehensive and seamless domestic network. The airline has been cutting capacity to increase load factors but was losing market share on Tasman routes as a result.
Another challenge was that Air New Zealand was still firmly a government-owned airline. That made strategic change "a whole lot more complicated", the centre said.
Air NZ's Rob Fyfe said if the alliance is approved it would be "one of several measures to improve the airline's competitive position on the trans-Tasman in the face of the Qantas Group's two-airline move for regional dominance."
"We are two of the world's most innovative and nimble airlines and by working closer together we believe we can deliver even more significant benefits to customers and shareholders," he said.
Fyfe said that the number of seats flown on the Tasman by the alliance carriers would grow more quickly than they would without the alliance.
Revenue generated across all Tasman sectors currently operated by either airline, or which may be developed under the agreement, will be shared between the two carriers.
- NZHERALD STAFF, NZPA, NEWSTALK ZB