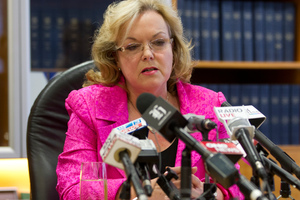 The number of restorative justice conferences will increase and the service will be offered in all courts across New Zealand to help reduce reoffending.
Justice Minister Judith Collins said the extra $4.4 million allocated for restorative justice services in this year's Budget would be used to provide an extra 900 restorative justice conferences in the next year and a further 1500 more in 2014/15.
That will mean 3600 conferences will be funded in 2014/15.
The conferences, a voluntary process in which victims meet with offenders, will also be available in all courts including those where the service had not previously been offered, such as Huntly, Morrinsville, Whakatane, Dannevirke and several South Island courts outside the main centres.
Ms Collins said restorative justice was an effective tool for reducing reoffending.
There was a 20 per cent reduction in reoffending among those who had attended a conference compared to those who did not, she said.
It also helped reduce victimisation. In 2011, about three quarters of victims taking part in a survey reported feeling better after a conference. She said it was part of the Government's target to reduce reoffending rates by 25 per cent by 2017.
"Restorative justice gives victims the ability to confront their offenders and tell them directly the impact their offending has had. It can be life-changing for both the victim, who is able to express their feelings to the person who caused their grief, and the offender who is directly confronted with the results of their action."
Contracts have been entered into with 17 providers and a specialist sexual offending provider to run the conferences.