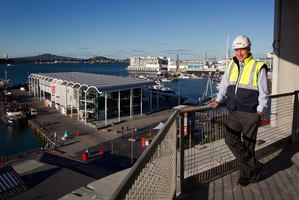 Eco-friendly $132.1m harbour-side structure waiting for ventilation funnel
The funnel topping off the new $132.1 million ASB North Wharf building rising in the Wynyard Quarter will be barged to the site this month.
Derek Shortt, ASB property manager, said the structure was conceived by the bank working with Australian architect James Gross of BVN. It was being built by NZ Yachting Developments at Hobsonville and would be brought to the site by sea.
Pure Design & Engineering, a consultancy specialising in advanced composite structures with a focus on the marine industry, designed the funnel, he said.
"It's a funnel because it's like a chimney. It allows air to come into the centre. It's round, like a boat. We thought we could never build it in-situ so we designed it and Yachting Developments tendered for it and got it," he said.
The funnel is a natural ventilation system, the first of its kind in New Zealand. It is designed to bring cool air into the building, operating about a third of the year, during the hottest months and the shoulder seasons, Shortt said.
The side of the funnel facing away from the prevailing wind will be kept open while the funnel facing the direction of the wind will be kept shut.
The building, which faces the new Wynyard Quarter restaurants and the tram line, has other passive eco-friendly systems.
The carpark on level one of the building on reclaimed land will be naturally ventilated. Shops and the primary plant room will be on ground level.
The electricity supply is unusual.
"Power comes from the floor up, not the roof down," Shortt said, referring to elimination of what he referred to as umbilical cords, the dangling unsightly roof-to-desk cables so common in offices.
"Energy costs will be lower," he predicted, from an existing average $145/sq m operating costs which he expects to be closer to $85/sq m at the new building although these charges include insurance, air conditioning and electricity so is not just a measure of energy consumption, he said.
Shortt referred to the interlinked structures as building 22 and 23, standing either side of Te Whero Lane.
Takapuna's Sovereign House was also designed by Gross working with Shortt.
One institutional investor with units in the building, owner Kiwi Income Property Trust, had a few qualms.
"It's going to be really unique which is due to the current tenant who has signed a lease sufficiently long term that it makes sense to do it financially.
"It will be 20 years time before that's tested. Commercial development folk might have done things a little differently.
"The facilities are what the tenant wanted but if you were doing it as a spec building, you might do it differently.
"The design, externally, is going to be interesting. Kiwi have made provision that if they had to, they could bring in another tenant."
Fletcher Construction's team, led by project director Alan Gray, is working for Kiwi whose chief executive, Chris Gudgeon, said the block would be the country's most advanced from a sustainability, service and environmental point of view.
NORTH WHARF
* Owner: Kiwi Income Property Trust.
* Tenant: ASB Bank.
* Location: Corner Jellicoe St/Halsey St, Wynyard Quarter.
* Builder: Fletcher Construction.
* Bank staff: To move around June, 2013.
* Project book: Released around July, 2013.