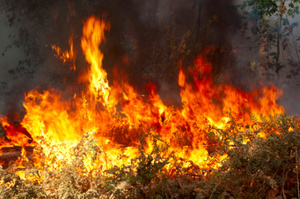 Two women who were almost burnt to death in a bushfire during a 100km marathon in Western Australia's Kimberley region have told a parliamentary inquiry of the daily pain they suffer from their life-changing injuries.
Kate Sanderson and Turia Pitt suffered burns to 60-80 per cent of their bodies while they were running in the race last September.
Organised by Hong Kong company Racing The Planet, the ultramarathon was being staged between Kununurra, Gibb River Road and El Questro Wilderness Park. A parliamentary inquiry in Perth is investigating whether more could have been done to prevent the runners being burnt.
Pitt, wearing a compression suit covering her face and body, said that bushfires had been mentioned briefly at a meeting the day before the event, but the focus was on other issues competitors might face including dehydration, crocodiles and snakes.
"They told us to avoid the fires if there were fires, but it was more of a passing comment," she said.
Sanderson said it was evident that there was a severe shortage of staff. "You put your trust in the organisers ... we just assume that everything's taken care of," she said.
Sanderson shed tears as she recounted how she screamed when the fire hit her body and said it felt like "an eternity" before help came.
Sanderson has extensive scarring to her body, with half her left foot amputated and a large part of both earlobes missing. She has also lost half of her right index finger and the rest of her fingers are disfigured by scarring.
Sanderson said she had spent just under six months in hospital and had to learn how to walk again.
Her life had been "destroyed" because she could not work, drive, tie her own shoe laces or turn on taps. "My life has just gone from what it was to nothing. I just sit at home all day and my life consists of appointments."
Pitt spent five months in hospital and said although she was lucky to have a supportive partner and family, she still endured daily struggles.
She has lost all her fingers on her right hand and the fingers on her left hand still need to be "fixed".
Pitt said she was earning a good income working in the mining industry but could no longer work, while her partner also had to give up work to care for her full-time. She cannot bend one of her elbows and cannot feed, dress or wash herself without assistance.
The committee will present its report to parliament in June.
- AAP