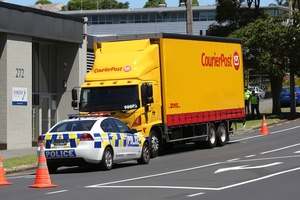 An Auckland courier driver whose careless driving left a jogger's leg almost severed has been banned from driving and ordered to pay her $6000.
The 58-year-old driver, named in court documents only as Shaymvedh, was driving his CourierPost truck on Richmond Rd in Grey Lynn in February.
The rear tray of the vehicle had just been used to load the truck and though Shaymvedh thought it had been retracted by a remote control, it had not.
While making a left turn, the metal platform pinned a young female jogger against a wall, almost severing her leg.
After being rushed to hospital, the Grey Lynn mother of two had her right leg amputated below the knee.
The victim, whose name was permanently suppressed by Judge Philippa Cunningham at Auckland District Court this afternoon, also suffered a compound fracture of her left thigh which required a titanium rod and screws to be fixed inside it.
The court was told Shaymvedh had 40 years' experience as a professional driver in Fiji and New Zealand and had an unblemished record.
His lawyer said he would suffer huge embarrassment in having to go to his three adult children to ask for money to pay reparation and he had lost his job because of the incident.
CourierPost had since changed its protocols on the use of remote controls. Now drivers can use them only while watching the rear of their vehicles.
Police said Shaymvedh's role as a professional driver exacerbated the offending, as did the fact he was exiting from an entrance.
Judge Cunningham said the impact on the woman had been severe.
"She can't get the sight of her severed leg out of her head," she said.
The victim was also experiencing "phantom pain" in her non-existent leg.
As well as the emotional harm reparation, Shaymvedh was fined $250 and disqualified from driving for six months.
- APNZ