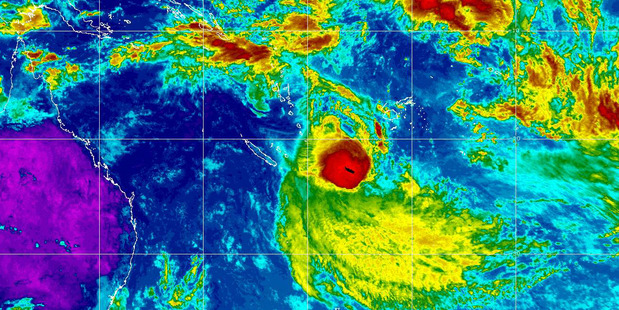 A severe weather warning has been issued for Auckland as Cyclone Lusi heads closer to New Zealand.
MetService issued a severe weather watch for Auckland this morning.
This watch is for the likelihood of significant heavy rain in Auckland - especially about the Hunua and Waitakare Ranges - overnight tonight and during Saturday.
Easterly gales will accompany the heavy rain, with gusts of 120km/h.
Electricity company Vector warned customers to be prepared for possible outages as a result of the wild weather.
This shows Lusi in real time as it approaches.

A number of events in and around the Auckland region have been cancelled.
Weekend events changed due to weather:
• The Auckland West Relay For Life has been cancelled. People can transfer to Auckland North Relay on 29/30th March. For more info go to www.relay.org.nz.
• Panasonic People's Triathlon at Maraetai Beach on Sunday has been postponed until March 30
• Salty Classic fishing competition 2014 cancelled
• Kaurilands Primary School Fun Fair, postponed to March 29
• Auckland's Silo Park cinema screening on Friday, cancelled
• Whangaparaoa Gala postponed until March 22.
* 360 Discovery ferry services cancelled:
- Coromandel: Friday and Saturday
- Tiritiri Matangi from Downtown and Gulf Harbour, Saturday
- passengers should check www.360discovery.co.nz as Sunday service to Tiritiri Matangai may also be cancelled
Events which could be affected:
• Vodafone Warriors v St. George Illawarra Dragons at Eden Park, Saturday
• Harbourview Sculpture trail, Te Atatu Peninsula, open until March 30
Before a storm:
• Develop a household emergency plan. Assemble and maintain your emergency survival items, as well as a portable getaway kit.
• Prepare your property by securing large heavy objects and any item which could become a deadly or damaging missile.
• Keep materials at hand for repairing windows, such as tarpaulins, boards and duct tape.
When a warning is issued and during a storm:
• Stay informed on weather updates. Listen to your local radio stations for advice for your community and situation.
• Put your household emergency plan into action and check your getaway kit.
• Secure, or move indoors, all items that could get blown about in strong winds.
• Close windows, external and internal doors. Pull curtains and drapes over unprotected glass areas.
• If the wind becomes destructive, stay away from doors and windows and shelter inside the house.
• Water supplies can be affected so store drinking water in containers and fill bathtubs and sinks.
• Power cuts are possible in severe weather. Unplug small appliances which may be affected by electrical power surges, and if power is lost, unplug major appliances.
• Bring pets inside. Move stock to shelter. If you have to evacuate, take your pets with you.
After a storm:
• Listen to your local radio stations for the most appropriate advice for your community and situation.
• Check for injuries and help others if you can, especially people who require special assistance.
• Look for and report broken utility lines.
• Contact your local council if your house has been severely damaged.
• If your property or contents are damaged take notes and photographs and contact your insurance company.
Detailed advice is at www.getthru.govt.nz.