As Auckland merges to create a supercity, the Herald looks back at how Auckland has changed over the years. Click here to view the full series.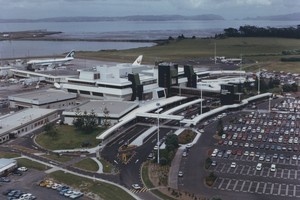 In 1958, to the consternation of the Queen City, it discovered a DC7C bringing the Queen Mother to New Zealand would not be able to land fully loaded at Whenuapai.
Her Majesty would have to transfer to a Bristol Britannia at Nadi. Fiji had a jet-age airport, as did Christchurch - Auckland did not.
Within days a moribund committee set up by the City Council and the Chamber of Commerce was revived to press the Government, and Auckland's myriad small boroughs, for action at last.
The DC7C still had propellers but full jets were not far away. New Zealand's international airline TEAL had ordered DC8s. Qantas would soon have Boeing's 707. Already Pan American Airways was threatening to bypass Auckland and make Christchurch its point of entry to New Zealand unless the Whenuapai runway was extended. Within two years, many warned, any city off the jet line might as well not have an airport.
Auckland had plenty on its plate in 1958 with the Harbour Bridge nearing completion, bridge-motorway connections programmed, and a modern sewage treatment plant being built on the Manukau mudflats not far from the Mangere field used by the Auckland Aero Club.
The wide low landscape of South Auckland had long encouraged aviation. It was the site of New Zealand's first controlled powered flight in 1911 when Vivian Walsh launched his biplane Manurewa (soaring bird) in Glenora Park, Papakura. He flew for 365m and reached an altitude of 18m.
A few years later a local flying school instructor, George Bolt, flew the first official airmail service from Auckland to Dargaville. In 1921 he made the first flight from Auckland to Wellington, in five hours, six minutes.
On October 16, 1936, the aero club's most adventurous member, Jean Batten, landed at the Mangere field to complete a record-setting solo flight from England.
Just before World War II the Government had taken over aviation, nationalising passenger services and possessing the Mangere field. When its National Airways Corporation needed an Auckland terminal the Government made available the Air Force's field at Whenuapai.
When international services started in the 1940s they used flying boats operating out of Mechanics Bay in the city centre. Pan Am started an Auckland-San Francisco service in July, 1940.
Flying boat services continued into the 1950s - but by then it was clear future passenger liners would need land bases.
A modern airport was a long time coming, though. War hero Sir Keith Park was discussing land sales with local farmers as early as 1949, yet the site was not formally chosen until 1955 and it was a further five years before financial arrangements could be agreed on.
The Government saw little urgency. As late as 1959, few people travelled by air. Just 56,299 people arrived in New Zealand on planes that year, fewer than the 65,000 in Eden Park the day the All Blacks played the touring Lions.
The financial breakthrough came in 1960 when the Government was satisfied the proposed airport could pay for itself from airline charges, relieving Auckland's small boroughs of sharing the capital cost.
On October 10 that year Mayor Robbie and Minister of Works Hugh Watt signed the agreement that saw construction begin.
But within a few years Auckland's development had greatly increased the time it would take to reach the new airport. A Herald report noted it would be further from the city in travelling time than Whenuapai, though it was more than three miles nearer.
On opening day, November 24, the first plane to land at Auckland International Airport was not the latest jetliner but a little Grumman Widgeon amphibian. When it landed Captain Fred Ladd climbed from the cockpit to announce his passenger, Mrs Ladd, had paid a shilling for the charter from Mechanics Bay, making the flight official.
Reference:
Where New Zealand Touches the World, a history of Auckland International Airport. By Martyn Thompson and Alice Clements. Pearson Longman, 2003.