Elisabeth Easther hopped down to the Auckland Art Gallery with her joey in her pouch to see the newest kids' activity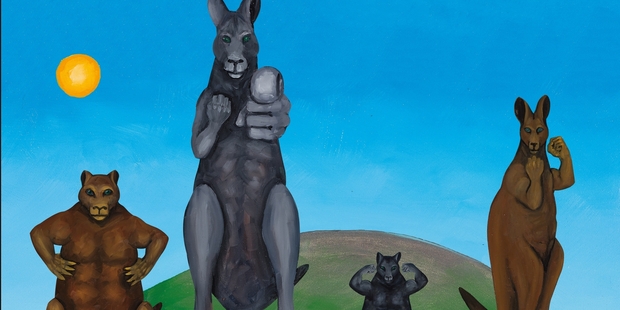 For the next three and a half months, the Auckland Art Gallery is playing host to My Country, an exhibition of contemporary art from black Australia. Part of that experience includes Kangaroo Crew an interactive project created by artist Gordon Hookey especially for younger visitors. Gordon, an indigenous Australian artist from the Waanyi people, created Kangaroo Crew in collaboration with the Queensland Art Gallery Gallery of Modern Art Children's Art Centre (Goma).
Goma creates artist-originated children's activities alongside most major exhibitions to help engage children and families their exhibitions.
My Country is a spectacular exhibition, moving, thoughtful, beautiful, light-hearted at times too. Kangaroo Crew is the perfect sideline to this collection, creating a bright vibrant space where families can while a way a few happy hours together. It also represents the beginning of a real commitment by the Auckland Art Gallery to younger visitors.
Gordon, father to two boys aged 1 and 3, says he was really surprise to be invited to do this. "I thought, why me? I do overt political art that's in your face, the aesthetic is not for kids. And it was then I was told there's a sense of humour in my work."
So off to his studio he went to figure out what on earth he was going to deliver and, what emerged was the The Sacred Hill. This is a picture book story about four kangaroos whose hill has been invaded by a flock of mynah birds. The story works on many different levels. "It started really dense and wordy and was slowly whittled down and refined.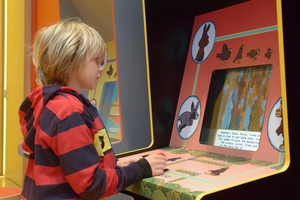 "There's some big subtext in this story and in the images. A lot of it has sprung from every day happenings, and at its heart it's about courage and it's about love."
Gordon's sense of fun and humour is clearly evident in the narrative and in the activities - from mask-making, to poster creation, to playing Kangacade on video game consoles that look like old school spacies machines from 80s. I enjoyed bouncing kangaroos across the plains, avoiding mynah birds (who make the perfect villains) and collecting gidgi sticks as I went.
Charming, eloquent, and energetic, Gordon Hookey's passion for his work rubs off. "With overt political art, the difficult thing was to still give it lots of attitude but make it digestible for children because what I want them to take away from this is to be happy and to have fun.
"The art world is so fickle, it's a game people play and it can be so full of pretension, yet children bring you back to earth, they show you your humanity. Children change everything."
As for the verdict from the eight-year-old Kangaroo Crew test pilot: "Mask-making was fun, I especially liked building it and colouring it in. And I learned a lot about kangaroos. The tree kangaroo is the only kangaroo that can walk backwards, and it can jump 16 metres out of trees and land safely."
What more could you ask for?
Need to know
Kangaroo Crew will be running alongside My Country and is free for visitors to enjoy, with plenty to make, see and do. There will also be indigenous story time sessions in the atrium. For details refer to the website.
Until July 20, Auckland Art Gallery/Toi o Tamaki, Corner Kitchener and Wellesley Streets, Auckland.