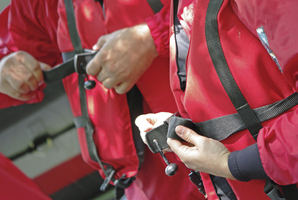 Boaties have criticised a plan to make wearing lifejackets mandatory on small vessels in the Auckland region as "ill-conceived'' and will lead to people breaking the law inadvertently.
Auckland Council wants it to be compulsory for people to wear a personal flotation device while on board vessels smaller than 6 metres and also to carry a communication device.
The council announced today it also wanted to give the harbourmaster powers to stop intoxicated people skippering vessels and to improve the management of mooring sites under the proposed Navigation Safety Bylaw.
Hibiscus Coast Boating Club spokesman Mike Cahill said the lifejacket plan was "expensive and ill-considered'' and did not pay proper attention to official Maritime New Zealand statistics.
"Nationally, over the last five years, there have been 42 pleasure boat drownings,'' he said.
"Of these, 12 pleasure boat drownings were in Auckland. All these were small dinghy-type boats under 4.8 metres.''
Mr Cahill said he would support the compulsory wearing of lifejackets on vessels under 4 metres which were "inherently unstable and easy to capsize'' but it was not necessary for larger vessels.
"There is a huge difference in the stability and safety between a 12-foot dinghy and a 16-foot runabout'' Mr Cahill said.
Lifejackets were impractical and unnecessary in many boating situations such as when anchored in calm and settled waters.
"The draft is inconsistent and confusing and will lead to boaties breaking the law whilst actually acting safely and responsibly,'' Mr Cahill said.
The existing rule for personal flotation devices on small vessels requires that lifejackets for everyone on board be carried and stored in an easily accessible area.
Councillor Calum Penrose, chairman of the regulatory and bylaws committee, said the proposal was not about the council "playing big brother'' and encroaching on personal freedom, but keeping water users safe.
"We know Aucklanders love to get on the water and have fun, but it can get dangerous when conditions turn bad, so we need some rules in place to keep people as safe as possible,'' he said.
"The community and our local boards have expressed concerns about this and have called for increased regulation with the hope of reducing the risk of preventable death.''
Auckland Harbourmaster Andrew Hayton said it would not require a great deal more work to enforce the proposed bylaw.
"We already do regular patrols stopping vessels and seeing whether they're carrying their lifejackets. If this goes ahead, we'll be checking that people are actually wearing their lifejackets.''
There would be some exemptions to the rules, such as boats travelling between a mother ship and the shore. Kite, sail and paddle boarders wearing wet suits and people below deck while vessels were anchored would also not be affected.
The proposed changes would apply to coastal and inland waters within Auckland.
Submissions open on Friday and close on March 14.
Proposed changes to the navigation safety bylaw:
• Making it mandatory to wear a personal flotation device (including lifejackets) while on board a vessel of six metres or less in length.
• Compulsory carriage of communication device such as VHF radio or mobile phone.
• Ability for the harbourmaster to prevent anyone being in charge of a vessel while intoxicated by drugs or alcohol.
• Improved management of mooring sites.