New website helps those hunting for houses in Auckland find the perfect neighbourhood for them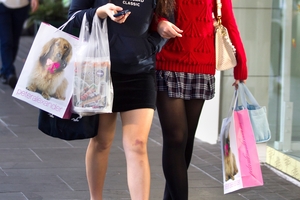 Looking to buy a home where your neighbours are most likely singletons and being "hip and trendy" is paramount? Try Parnell or Newmarket.
Or are you retired and want a coastal property where your commute time to the city isn't important but amenities and shopping need to be handy? Eastern Bays or Takapuna would probably suit best.
A new website allows Auckland house-hunters to find their perfect neighbourhood by searching by lifestyle preference.
The "suburb sleuth" function is part of property author Stephen Hart's new website Hometopia - a play on the word Utopia because it aims to provide "the perfect place for home buyers and sellers".
As well as searching in your price range, you can pick whether you want your neighbours to be singles, families, couples, senior or of mixed age.
You can adjust a scale on how important it is for the area to be "hip and trendy", your preferred commute time to the city centre and how important it is to have a mall on your doorstep as well as good schools.
The website then picks the top 10 suburbs out of a list of 55 - which include 200 neighbourhoods - that match your criteria.
Clicking on the suburbs tells you the population, ethnicity make-up, percentage of people aged under 15 and over 65, the median house value and includes a description about the area from Mr Hart.
For example, Remuera was the top-rating suburb for people wanting a family-orientated neighbourhood that was close to good schools.
It was in the zone for grammar and private schools, had a population of 19,731 which was almost 70 per cent European and a median house price of $1.2 million.
The website - which uses information from Mr Hart's book Where to Live in Auckland - describes the area as "the suburb of preference for the seriously moneyed". "Nowadays it's increasingly a mix of the nouveau riche and old-money families - much to the chagrin of the latter.
"Nearly every pocket of land has been filled, with many older-style homes being relocated to make way for new developments. Typically we're talking about well-designed, quality developments - not bargain basement ticky-tacky - so this has added variety and enhanced, rather than detracted from the area."
The website also has a "where do I fit" function, listing 18 tongue-in-check categories and corresponding suburbs such as the Country, Horsey Set (Whitford and Kumeu), Ladies Who Lunch (Remuera and Parnell) and Tycoons and Captains of Industry (Herne Bay and Takapuna).
There's an international category listing suburbs by ethnicity make-up, such as Pakuranga and Bucklands Beach (Asian), Sandringham (Indian), Upper East Coast Bays (South African/English/Korean) and Henderson (Croatian/Dutch).
Mr Hart said overseas buyers would benefit from the function, but it was also for the domestic market.
Originally from Oxfordshire, Mr Hart remembers looking through a guide from a local real estate company when he was searching for a home in Auckland.
"They don't say, 'There's a place called Herne Bay, and that's really, really good'. And 'There's a place called Manurewa, and that might not appeal quite so much'.
"We do say that. As a migrant you know nothing ... We want to make sure that they can put together their shopping list of suburbs before they get here. Or even satisfy their curiosity now, while they're stuck in North Yorkshire."
There were also ex-patriate Kiwis who wanted to invest back home, but weren't sure how suburbs were performing.
The website also compares real estate agent fees, points to the latest mortgage rates, gives links to recommended lenders, brokers, valuers, lawyers and building inspectors.
And sellers can see how their suburb is performing, based on the latest sales figures.
Where do I fit?
Property author Stephen Hart's new website Hometopia provides these tongue-in-cheek suburb suggestions for house-hunters.
Arty, Media, Intellectual Types
• Ponsonby
• Parnell
• Grey Lynn
Boaties and Beach Bums
• Lower East Coast Bays
• Bucklands Beach
• Half Moon Bay
First-time Buyers and Renters
• Glen Innes
• New Lynn
• Papakura
Heritage Lovers
• Devonport
• Onehunga
• Mt Eden
Families
• Mt Albert
• Howick
• Pakuranga
Country, Horsey Set
• Whitford
• Kumeu
• Swanson
Greenies
• Titirangi
• West Coast beaches
• Hauraki Gulf islands
Seniors
• Eastern Bays
• Hibiscus Coast
• Warkworth
Ladies Who Lunch
• Remuera
• Epsom
• Herne Bay
24-hour Party People
• Auckland City
• Parnell
• Eastern Bays
Shop Till You Drop
• Parnell
• Ponsonby
• Auckland City
Investors
• Mangere
• Manurewa
• Papatoetoe
Culture Vultures
• Auckland City
• Parnell
• Takapuna
International
• Pakuranga (Asian)
• Papatoetoe/Otahuhu (Indian/Pacific Islanders)
• Sandringham (Indian)
Source: hometopia.co.nz