Faith Faulk tells Elisabeth Easther what she loves about living in one of Auckland's newest coastal communities, Hobsonville Pt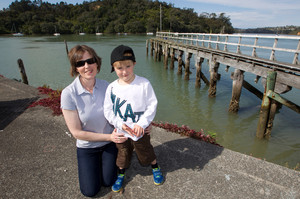 We moved up here from Rangiora, North Canterbury, last June. Our son Harry turns 5 in May and, because of the ongoing aftershocks, we decided to make a change before he started school.
We honeymooned in New Zealand in 2002, fell in love with the place and moved here from Britain in 2004.
I bought a book called Where to Live in Auckland by Stephen Hart and, when I read about Hobsonville, a light bulb lit up.
Several things won us over. We wanted to be part of a strong community; one that would grow. Eventually there'll be 2500 homes here, but we were one of the first 50 families to move in. And they're not starting from scratch here, either - there are lots of old trees, lots of character through the officers' housing and the old hangars.
When the tornado stuck in December, we were devastated by the loss of life. It was a tough day mentally, but the community spirit was abundant.
Harry loves riding his bike. There's a wonderful circuit called the Hobsonville Pt Circuit, where there are checkpoints from the old airforce base.
A for alpha, B for bravo, T for tango.
So we take our bikes or walk it, and anyone can do that; you don't have to live here. My husband Matthew likes to run the circuit round Hobsonville. He's a huge road-biking fan, too, and is dying to meet other enthusiasts and set up a little group as the community grows.
There's 4km of coastal walkway, which makes walking, running and cycling easy, and it's really big - 167ha jutting out into the Waitemata. There will be 24ha of open space when it's finished.
We've got a cafe called Catalina, named for the flying boats that once had their base here. One jetty has gone to make way for the ferry, but I think they're going to preserve parts of it.
There's a farmers' market on Saturdays and Sundays from 9am to 1pm in one of the old airbase buildings and it goes ahead rain or shine.I've never been anywhere that is such a feast for the senses. You can buy free-range chicken, honey, a delicious ginger drink that's amazing hot or cold, pickles, things that restock your larder and make your meals more exciting, and it's all so well-priced.
I've been to farmers' markets before and they're not always cheap, but this is quality product for a really fair price.
We love going there: sometimes there's live music or a chef doing demonstrations using local ingredients. It's beautifully laid out, too - I doubt anyone could be disappointed.
Because most people don't have large gardens, those who want them can apply to the Hobsonville Land Company for a plot in the community gardens.
The HLC provides the materials and plot and the person does the rest.
The primary school has just been finished. We've just been to the open day and it was fantastic. Harry's all enrolled to start on Monday.
The Coastal Walkway is walkable now, past the Catalina Cafe and the old buildings, and down by the new ferry terminal. It's about 4km and great fun. The ferry terminal is opening tomorrow - the sculpture is up and it's divine.
The main playground cost $1.7 million to build. There are sculptures the kids can climb, giant seed pods (some are metal; some are plastic) and there are hideouts for the kids to play in. Harry and I go up there with a coffee to meet our neighbours, who are lovely.
Harry and I are involved in an art project in the community rooms behind the cafe. There are art classes there, too. You can just rock up on a Sunday from 9am to 1pm; a lady runs that as a little business. You pay $10 or more, depending on the materials you use. It's perfect on really wet Sundays.
From Hobsonville Pt the ferry will take about 25 minutes to get to Quay St in Auckland's CBD.
There are plans for more shops, cafes and restaurants at the ferry terminal. Imagine the buzz of the Viaduct, Devonport and Mission Bay, all the best things of those areas.
Hobsonville Pt has a plan which stretches over 10 years, and we'll sit here in 10 years' time, dining out and looking over to the city. It'll take a long time to get there, but we're not in a hurry, we're really happy here now. Everything here is so pretty, and there are so many opportunities to do things and enjoy family life.
Faith's favourite things
Hobsonville Pt: hobsonvillepoint.co.nz
Farmers' Market: Corner Buckley Ave and Hastings Cres, Hobsonville Pt (09) 261 5054.
Catalina Cafe: Corner Buckley Ave and Hastings Cres, Hobsonville Pt, (09) 950 6551