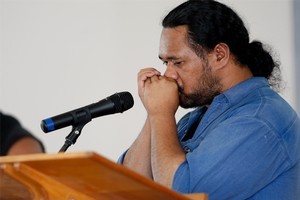 Drama has become a life-changing experience for a man who has spent most of his life on the streets of Auckland.
"Shadow", who says he has forgotten his real name because of years of glue-sniffing, started living on the streets in his early teens because of problems at home with his mother's boyfriend.
Yesterday, at a national conference on homelessness, he sang and played the harmonica and with five other homeless men was wrapped in bright yellow tape in a drama about the red tape they deal with to obtain social services.
He also plays a homeless man in a TV3 series called Super City, the last episode of which screens at 10 o'clock tonight.
"They had to get a streetie to play a streetie," he said. "I hope they do another series, I wouldn't mind doing some more work. It was cool."
Auckland City Mission homeless worker Wilf Holt, who helped to form the drama group 18 months ago, said it tapped the skills of people such as Shadow and guitarist Jem Pauro, 41, both regular Queen St buskers.
The group worked with professionals from The Edge to put on a show called Homeless Economics in the recent Auckland Fringe Festival.
Another member, Garry, 55, said he had known most of the members for 10 years and the drama group was "the biggest positive change I've seen".
"To see them come out in front of people - wow!
"For me, it's been the greatest distraction in my life. It takes me away from my personal issues that I can't fathom to understand. It's an extraordinary thing, I believe this should be part and parcel of every country's homeless policy."
Iris Pahau, of the Coalition to End Homelessness, which organised yesterday's conference, said homelessness was "sadly, a growing industry".
Auckland Night Shelter manager Corie Haddock, who co-chairs the coalition, said he was advising Tauranga police, council and churches about a planned night shelter for a growing number of rough sleepers. He will meet another group in Palmerston North in June.
He said the coalition wanted a parliamentary inquiry into all aspects of homelessness, including boarding houses, overcrowding and substandard houses as well as rough sleeping.
National MP Katrina Shanks, who chairs Parliament's social services committee, said the committee felt the whole issue was too broad and lacked adequate research, but it was considering an inquiry into boarding houses.
"We have just done a lot of legislative changes with the Residential Tenancies Act," she said.
"So it's a good bit of work to see whether it's changing what we are concerned about, which is slum landlords."
WHO'S HOMELESS
* Rough sleepers: "A few hundred", including about 120 in Auckland.
* Boarding houses, motor camps and other temporary accommodation: Unknown, perhaps several thousand.
* Substandard houses: "A few thousand". Last Census found 4722 people in 2295 uninhabitable dwellings.
* Overcrowded: "Many thousands". Census found 28,000 one-family households and 43,000 households with more than one family in overcrowded conditions.
Source: Housing NZ, Nov 2010.