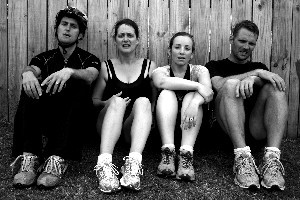 Some marvellous images are being created at the Basement this Fringe.
The sets have to be dressed and struck in a matter of seconds, and these tight restrictions seem to have a stimulating effect on designers' creativity.
Earlier this week, the expansive dress in Drowning in Veronica Lake kept its wearer at a distance from her fans, and covered a multitude of sins.
Now, simply and smartly, the three actors in Standstill turn three exercise treadmills into production line conveyor belts and back again, making a mockery of modernity's dream of individual progress.
Presented in comic, spliced vignettes, some of their characters want it all. And they know - without question - what "it all" is: career, sexy body, spouse, kids. And a boat.
Others are just trying to get through the day without the foreman giving them a gas mask and exiling them to despatch. Fear and self-centred ambition reign.
Writer, director and producer Anders Falstie-Jensen has woven an impressively-crafted, snappily-written whole out of snippets of modern life, and his wry vision of cyclists, doctors and Aussie tour guides is well-delivered by the three chameleon actors: Brian Moore, Catherine Nola and Candice de Villiers.
Slogans bounce around until they turn inside out so that 'kia kaha" and "go with the flow" mean the same thing. Doing the hard yards, doing as you're told, might just be the easiest thing.
Relying on the system, however, doesn't work for those who are always told "no" (in the nicest possible tones). At one point, the self-help guru's machine itself breaks down.
But what are the alternatives? A humorous shouting match between self-help platitudes and "don't expect much" pessimism shows that neither is appealing. So we have to think for ourselves, and not only of ourselves.
In the reflective coda, all three run to The The's refrain of "if you can't change the world, change yourself".
Is this despair leading to lonely, egotistical atomisation? Or the small start of a revolution? It's up to the audience to decide whether the show's title is another piece of advice.
*Standstill runs at The Basement Theatre till Sunday