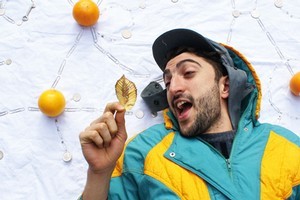 At first, this late-night one-man show from Australia looks like just a vehicle for a Mr Bean impersonator in younger, more alternative clothing.
The talented Vachel Spirason as Angus can certainly ape the open mouth, expressive eyebrows and angry confusion of Rowan Atkinson's old-fashioned, socially-awkward naif to a remarkable degree. And he isn't afraid to make fart jokes.
But Spirason and co-writer/producer/designer Stephanie Brotchie are tender towards their mostly speechless idiot-savant character and he's funnier and far more loveable than Mr Bean, while negotiating his formula for the universe, trying to make friends, dancing and hiding from his dastardly alter ego, Manabohzo.
Angus turns the pages of a large book of out-of-order chapter headings to find out what's happening next - a conceit that works well - and he interacts with a voice-of-God narrator, and several well-drawn characters.
My favourite was the drongo-sounding car-windshield cleaner who enthuses about Murakami's novels with a few explosive swearwords and who, we're told, has a quote from Gabriel Garcia Marquez tattooed on his right shoulder blade and an explanatory footnote tattooed on his right ankle.
Spirason is charming, charismatic and has gobs of stage presence.
Brotchie's design is well-judged: when Angus first appears, his red beanie and heart-on-sleeve match her pretty, red book illustration, and everything else is in washed out, neutral colours. The effect is subtle but striking.
The plot, while loose, has surprisingly good internal coherence. Even the shuffled chapter headings are explained. The Hermitude may be a huge pile of jokes, acting exercises and cheap tricks - at one point Spirason "stops" the show deadpan, to tell us about crop circles - but it's an organised pile.
And it works famously, thanks to its polish, humour, attention to detail, feel-good vibe and Spirason's sheer force of theatrical personality. Hard to resist a show that ends with a genuine invite to the audience to join Angus in a dance.
*The Hermitude of Angus, Ecstatic runs at The Basement Theatre till March 12th