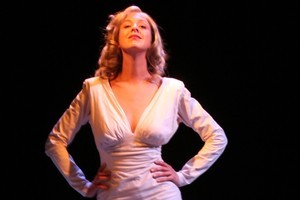 Boldly and cleverly, this Flaxworks solo show is built upon one solitary, striking symbol of celebrity.
A glamorous blonde woman wears a straight-drop, figure-hugging white gown that spreads out into an enormous pool of fabric at her feet. She can sway and pose and writhe, but she cannot move below her knees; the garment twists up around her, creating both pedestal and prison.
This could be anyone ever caught in the spotlight, particularly those too young to know who they were beforehand - Britney Spears, Michael Jackson et al. But the beautiful gown is of 1940s cut - shoulder pads, plunging v-neck, flat diamond waist - and the lady marooned in the lake of white is movie star Veronica Lake (Alex Ellis), one eye hidden by her famous "peekaboo bangs".
Veronica tells us her uber-Hollywood tragedy: pushy stage mom; childhood molestation; beauty pageants; multiple marriages; beatings; poverty, and an early death by drinking.
As she says, "things were bad, and they got worse."
She has some punchy lines ("you make your bed, you drink in it") but Phil Ormsby's script and Simon Coleman's direction are more conventional than their visual concept, presenting Veronica as a victim of circumstance, revealing little individual personality.
Did fame's hollow image destroy the "real" Veronica by masking her, or was the "real" Veronica never allowed to develop in the first place? The show doesn't decide.

Onstage, when we arrive and when we leave, Ellis rises to the challenge of entertaining while glued to the spot, with limpid eyes, dazzling grin and curled lip before Veronica's self-pitying histrionics take over.
Jamie Linehan's successfully complex soundscapes include dramatic swing music, underwater metallic sounds and background car noises, transporting the audience into the big band era and Veronica's confusion.
Nik Janiurek's thoughtful lighting design helps age Veronica during her downfall.
Dress designer and constructor Sara Taylor, in consultation with Elizabeth Whiting, deserves special mention. She has created an iconoclastic icon, a memorable commentary in costume.
*Drowning in Veronica Lake runs at The Basement Theatre till March 8