Penrose site could be adapted to many uses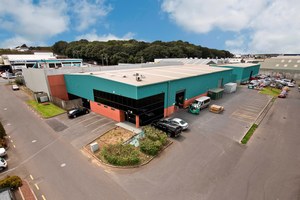 A fully leased industrial property with a solid long-term tenant in the popular Church St area of Penrose is for sale for only the second time since the property was developed 15 years ago.
The 1,628sqm factory at 345A Church St has been occupied by Manukau Metal Polishers since it was built in 1998.
The freehold property is being marketed by David Savery and Buen Sue of NAI Harcourts for sale by private treaty for an asking price of $2,060,000, based on its rental income.
MMP signed its second right of renewal under its three-year lease terms from January next year.
"The property is producing a net annual rental income of $150,000 and this will rise to $154,500 in January under the lease terms," Savery says.
The property, on a 2,842sqm site, is only a short distance from State Highway 1 and an easy commute to the SH20 and the airport. It is zoned Business 6.
The property comprises a high stud factory and warehouse of 1,125sqm with two motorised roller doors and has an apex centre height of 7.9m. There is a lean-to of 109sqm and open mezzanine storage of 102sqm.
The main building has five constructional bays and a smaller lower-stud lean-to at the rear.
The front of the property is in two levels encompassing 194sqm of ground-floor offices and amenities, upstairs air-conditioned offices and a boardroom.
There are 35 car parks and storage room for containers.
"This warehouse has been well built originally and kept in a very good condition by the tenant over the years," Savery says.
"Some more recently constructed buildings have a lot of office space and a smaller warehouse that only suits some businesses.
"This warehouse will pretty much suit any industrial user or a tenant needing good storage."
Savery says Penrose continues to be a popular location for many industries and property is tightly held by vendors and tenants.
MMP is one of the largest metal-polishing companies in Australasia.
"While the building wasn't purpose-built for the company, MMP saw the construction under way at the same time it needed to relocate to larger premises and negotiated with the developer to have the premises completed to its requirements," Savery says.
"The company had been operating out of two premises and relocating the business under one roof made sense.
"It also gave them room for later expansion. The company subsequently made a big investment in its plant and equipment."
MMP specialises in metal polishing for the commercial market and retail sector throughout New Zealand, providing a large range of finishes from bead blasting to various types of satin and polish finishes on steel, stainless-steel, brass, copper, silver, aluminium and bronze. It is one of few specialised polishers in New Zealand.
A large part of MMP's work involves polishing automotive parts for export to car manufacturers in Europe and Asia with cars being made for the Australian market. This includes polishing mag wheels, bumpers, rotor housings, inlet cooler, tanks, aluminium sports bars and bull bars for a range of new cars including Nissan, Mazda, Ford, Land Rover, Scania, Hino, VW and Iveco.
Food-processing units comprise another arm of the business, involving products, milk vats and processors, which have to be polished for food safety.
MMP also polishes fittings for the marine industry.

What's on offer?
Industrial warehouse and offices
Where: 345A Church St, Penrose
Sales method: Private treaty asking price $2,060,000
Agency: NAI Harcourts Auckland West
Features
• Long-established and solid tenant
• Good access to motorways
• Annual income rising to $154,500 in January