Area has a great balance of businesses, retailers and entertainment and is handy to all forms of transport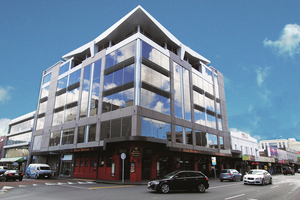 Two modern office tenancies in a high profile Newmarket building only one block back from Broadway are being marketed along with signage and naming rights.
"The building at 414 Khyber Pass Rd, Newmarket, was constructed in 2006 and offers a commanding street presence on a prominent corner site," says Lorne Somerville, of CBRE, who is marketing the property as master agent with colleague Omri Yahel on behalf of Southbourne Holdings.
Describing the building as "seismically strong", Somerville says three floors are available for lease comprising Level 3 of 895sqm and Levels 5 and 6 totalling 1,765sqm. It is hoped one tenant will sign up for Levels 5 and 6 which are connected by an internal staircase.
Somerville says the regular, square-shaped floor plans and well-positioned services offer strong options for space efficiency.
"Ideally suited for 60-90 people per floor, the floors already have a great fitout for occupiers to apply their own brand and character.
The building also has 160 carparks available for lease across the road.
"In addition, the building was assessed in June 2013 to meet 100 per cent of the current new building structural seismic requirements."
Somerville says CBRE has completed five significant leases in Newmarket totalling over 7,500sqm in the past three months including putting Trust Management into 530sqm at 123 Carlton Gore Rd on October 1; 2 Degrees Mobile into 4,212sqm at 47 George St from December 2013; intellectual property lawyers James & Wells moving from Ellerslie to 123 Carlton Gore Rd in April 2014; Vend Limited moving from Parnell to 2 Nuffield St; and Atlantis Health-care committing long term to a full floor at 435 Khyber Pass Rd.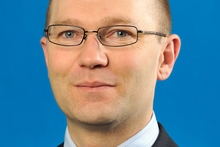 "Newmarket is drawing considerable leasing interest at the moment," says Somerville. "The precinct is a fast growing and vibrant commercial centre with over 16,000 people working in the business district every day.
"It has more than 500 fashion, lifestyle and retail stores; and more than 100 bars, cafes and restaurants; that are serviced by 14 parking buildings in the area.
"Newmarket also has a great balance of businesses, retailers and entertainment centres and is close to the CBD. It has become a Who's Who of big corporates, with Vector, Watercare, Roche, Tonkin & Taylor, Aurecon, Heartland Bank, ANZ Bank and Unilever all located there."
Nearby attractions include three parks - Newmarket Park, Lumsden Green and Auckland Domain.
"In addition, it has excellent transport links for people travelling to work by bus, train, car and bike. Newmarket's train station provides a connection with the Auckland rail network which is now used by around 3,500 passengers on a daily basis and it is also on the popular Link bus route - a dedicated bus corridor linking the central city to Newmarket via the university and hospital. Newmarket is also serviced by three motorway access ramps for employees driving to and from work."
Somerville believes that trends seen throughout 2013 will continue through into 2014.
He says that, on the whole, vacancy in the fringe office market remained stable in the first half of 2013 but some suburbs did experience large changes.
"One of the major contributors to the increase in vacancy in Newmarket, for example, was the Lion relocation to College Hill where the level of vacancy consequently dropped significantly. In our last research into the sector, we said the opportunity to secure office space at cyclically low prices has passed. Today we see that net effective prime fringe rents have already exceeded their pre-global financial crisis figures because of growing demand for prime new developments."

What's on offer?
For lease: Two tenancies of three office floors.
Space available: Level 3 of 895sqm and Levels 5 and 6 combined of 1,765sqm.
Address: 414 Khyber Pass Rd, Newmarket.
Agency: CBRE.
Features
• High profile corner site.
• Signage and naming rights available.
• One block back from Broadway.
• Described as "seismically strong".
• Close to transport links.