Karl Zohrab is a film and television producer who lives in Pt Chevalier. He is currently working on a documentary based on the life of one of New Zealand's unsung Gallipoli heroes.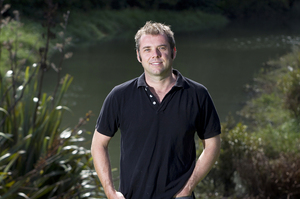 I have been living in Pt Chevalier for only about six months, a relatively new recruit to the area's charms, but I'm sold on the place.
At night, from home, I can hear the lions roaring and the monkeys screaming, from the zoo presumably. Combined with the chugging steam engines coming from Motat on a Sunday, it's a soundscape reminiscent of how I imagine colonial Africa might have been.
When I get the chance I like to take a walk and there are some great tracks to choose from. You can go along the water from Eric Armishaw Park, there's a great path from there that leads to the sea and, when the tide's out you can walk along the beach to St Michael's Ave. Of course there's Pt Chev Beach too, which is very pleasant at high tide, on a summer sunset with a crisp beer. There are also off-road, boardwalk-type bush-clad paths that lead to Westmere and Western Springs, either round the back of Pasadena Intermediate or through Jaggers Bush off Meola Rd. Weaving alongside streams and creeks, it's so peaceful, you wouldn't know you were 15 minutes from the CBD.
Living in a property that backs on to Moa Reserve, one of the off-leash dog parks, I like watching Meola Creek rise and fall with the tides. I've always wanted to see what's round the river bend so, just last weekend we borrowed a couple of kayaks from the neighbours and popped them into the water and headed towards the sea. We set off about three hours shy of high tide, paddling for an hour or so up to the open water of the Waitemata Harbour. Passing through the mangroves we saw some wonderful gardens, the odd private jetty, swings and bird sculptures. Not to mention the real birds; despite the swampy conditions, or perhaps because of them, the birdlife is plentiful with kingfishers and other feathered things flitting through the trees. Word of warning though, don't go at high tide, otherwise the water'll be too high to get under Meola Rd on the way home, and if the tide's too low, you won't get anywhere either. Not that it was entirely delightful; the water is pretty grotty in parts and there's a fair bit of rubbish, but all in all I'm pleased we went round the bend, and will happily do it again, though probably when the weather is warmer.
In terms of the little village, it has most things one needs. We have a cute library, a supermarket that's more like a dairy on steroids, some brimming two dollar shops. And in the mall there's a great soccer store with boots, shirts and paraphernalia for every league and team you could think of. I now have some wristbands for my team Spurs.
There's a decent DVD store who are very tolerant of my late returns, and Fiesta Coffee Lounge can't be beaten for their flat whites. The Crown is a great pub for a pint while watching a game - particularly the Warriors, because Pt Chev has a great league tradition. They have a hotly contested pub quiz there on Tuesday nights too. There's a bookstore near the Coyle Park end of Pt Chev Rd called the Resource Room (which I believe is for sale.)
Pt Chev also has an informative email that goes out to subscribers once every few weeks, and it keeps the village up-to-date with matters to do with entertainment and politics, lately they've been making a big push to stop the McDonalds from operating too late at night.
On the subject of food, there is a great Indian place, Saffron, the Italian Cafe Latte is consistently good, and the Thai restaurant Joy's Place, with its pokies and bar, is a great for a tasty, affordable takeaway. Joy herself is something of a character too.
Probably my favourite thing about Pt Chev right now is the Tennis Club on Pt Chev Rd, which the I've just joined. There's nothing more satisfying than a hit on a hot day. The club is friendly and has a bar and sometimes a sausage sizzle for post-game wind-downs. I hadn't played since I was at school and it's fun getting back into it, although the creaky bones and sore muscles do remind me of the inevitability of advancing age. Handily though, the tennis club is right by the Pt Chev Bowling Club so, when my backhand finally succumbs, I'll just trot next door.
Karl's Picks
* Cafe Latte, 149 Pt Chevalier Rd, 846 5303. Great food, quirky service and free Limoncello at the end of the meal. Licensed and BYO.
* Fiesta Coffee Lounge, 1212 Great North Rd. 845 2399. Great food, delicious coffee and friendly staff. Pleasant outdoor area too.
* Joy's Thai Takeaway, 4/6 Carrington Rd, 845 6682. Authentic Thai food, eat in or take out, Thai beef salad a particular treat.
* The Resource Room, 330 Pt Chevalier Rd, 846 0468. Small but perfectly formed bookstore. Good for gift buying, browsing, literature for kids and adults, and educational books too.
* Pt Chev email: If you want to subscribe to this mail out, visit pointchev.com and follow the simple instructions.