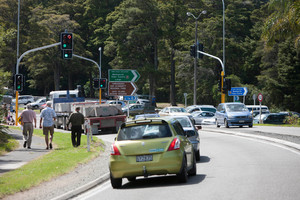 Risks of floodwaters washing "catastrophic" volumes of earth from construction of a 18.5-kilometre Auckland motorway extension to Warkworth have been raised early in a fast-track planning hearing which opened today.
The Transport Agency, which told a Board of Inquiry sitting at Silverdale it hopes to begin a five-year construction programme for the $760 million project in 2016, said area limits for earthworks proposed by the Department of Conservation would be unnecessarily restrictive.
Its lawyer, Paula Brosnahan, said the agency favoured "proactively predicting" rainfall which may cause erosion and to take immediate steps before the event.
The agency intends moving about 8million cubic metres while building 12 viaducts and bridges from the Johnstones Hill traffic tunnels south of Puhoi to a roundabout north of Warkworth, most of which will be used as fill for the project.
But retired High Court Judge John Priestley QC, who is chairing the five-member board,challenged Ms Brosnahan to "proactively predict whether it is going to rain on Wednesday or Thursday."
He said predicting extreme weather events such as 50-year or 100-year floods became even more uncertain.
"The risk of the effects of 50-year rainstorm during construction when there could well be stockpiled earth on the Mahurangi [River] catchment would be quite catastrophic," Justice Priestley said.
"So we need to be as satisfied as we can to ensure catastrophe does not take place."
Ms Brosnahan accepted that predicting rain was not necessarily easy but said engineers would rely on extensive data which had stood them in good stead on other big Auckland projects.
She said setting area limits on ground to be worked at any one time would simply prolong construction, increasing the risk that flooding would hit the project.
"So the risk is not necessarily lowered by lowering the limit."
Justice Priestley said in opening the 14-day hearing that the motorway would be an enormous structure raising complex issues under the Resource Management Act "and we want to make sure we get it right."
Ms Brosnahan said the project, for which 115 submissions were received in favour and 46 against, had wide support from business and community groups in Auckland and Northland.
"The positive safety and efficiency benefits that will be secured for many thousands of future road users and other economic, planning and strategic benefits will far outweigh any adverse effects that will be felt by a relative few," she said.
About 50 properties are expected to be needed for the motorway extension, which comprise about one half of a 38km route to Wellsford classified as one of the Government's seven roads of national significance.
The Transport Agency has deferred planning for the route north of Warkworth to Wellsford, because of the difficulty of ground conditions in the motor accident-plagued Dome Valley.
Until today it had not given a construction start date estimate for the extension to Warkworth, other than giving a range of any time from next year to 2019.