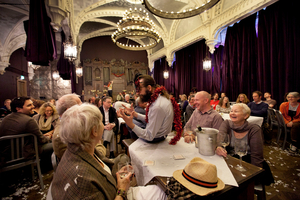 The roots of European theatre are deeply entangled with the culture of the ale-house and the Scottish National theatre makes an exuberant return to the source with a riotously funny and at times tenderly lyrical tribute to Scottish narrative ballads.
As befits a tale from the unruly borderlands the shows flits back and forth across genres and scrambles together an eclectic mash-up that has Kylie Minogue rubbing shoulders with lyric poetry and haunting Scottish laments.
These carnivalesque jolts create a topsy-turvy world where the upper classes are held up to ridicule and the down-to-earth wisdom of the peasant reigns supreme.
It also reinforces the show's insistence that traditional ballads have much in common with contemporary pop culture and should be not be revered as museum items.
The narrative is wildly unpredictable and it would be churlish to give too much away except to say it is unwise it accept the promise of a warm fire if you have misgivings about the shape of your host feet.
In the title role Melody Grove had the audience with their heart in their hands while Paul McCole had us in stitches of laughter with his portrayal of an unlikely romantic hero and knight errant.
The supporting cast present a grotesque miscellany of wildly exaggerated but instantly recognisable characters and doubled up to form a tight band who delivered everything from mournful laments through to the foot-stomping rhythms of a barn-dance
The rustic ambience of the Bluestone Room provides the perfect setting for a show that obliterates any sense of separation between audience and performers and although the pace lags a bit in the second half the conclusion presents a powerful affirmation of the poetic life triumphing over the horrors of a prosaic hell.
The Strange Undoing of Prudencia Hart
Where: The Bluestone Room, Durham Lane
When: Until March 24