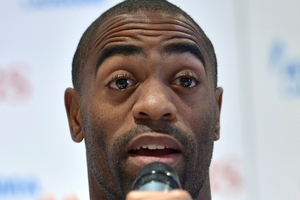 Carmelita Jeter of the United States and Jamaica's Shelly-Ann Fraser-Pryce walked out of a news conference yesterday when the sprinters were asked about the atmosphere in their teams after recent failed dope tests for Tyson Gay and Asafa Powell.
Having requested not to be quizzed about doping ahead of today's Herculis meeting in Monaco, the pair abruptly got up and left.
Gay won the 100m and 200m in the US trials last month. But the 2007 triple world champion pulled out of the Herculis meet and the world championships in Moscow after being notified of a positive doping test by the US Anti-Doping Agency this month.
Powell, the former 100m recordholder, and Sherone Simpson, a three-time Olympic medallist, tested positive for the stimulant oxilofrine at the Jamaican championships last month. Olympic champion Veronica Campbell-Brown tested positive for a banned diuretic in May.
However, Australian hurdler Sally Pearson, American high jumper Brigetta Barrett and sprinter Justin Gatlin did not shy away from discussing the doping issue yesterday.
"You have to make sure you're responsible for what's going into your body and who's around you," said Gatlin, a former Olympic and world champion who was suspended for four years after testing positive for a banned substance in 2006.
"It's just life. That's one thing I learned when everything happened with me," Gatlin said. "You got to deal with it. You got to move forward. The one thing I learned about track and field is it's not about what you say, it's about what you do."
Gay, who turns 31 next month, could face a two-year ban if his B sample also tests positive, and would struggle to be competitive again. "Getting back in shape was the toughest part," Gatlin recalled. "I came back 20 pounds overweight."
Barrett, who won the US trials with a personal best of 2.04m and is the Olympic runner-up, clearly hadn't expected the string of doping test announcements in recent weeks.
"You're always shocked by the news when your heroes have fallen," Barrett said. "It does feel like a shock because I didn't expect those people to have a positive test.
"As far as Tyson Gay is concerned, my heart and my prayers go out to him and anybody else having to deal with the consequences of a positive test result," said Barrett.
Pearson regretted doping had returned to plague the sport's image, but highlighted the work of anti-doping authorities around the world.
"It's disappointing these things happen," she said. "But at the same time, I guess it's good that whatever the doping agency is doing it is keeping on top of the athletes.
"It's a shame that you have to talk about it ... We know these athletes personally as well. It can be difficult."
As for the meet, there should be plenty of action on the night.
Gatlin will face a new generation of Jamaican sprinters with Kemar Bailey-Cole and Nickel Ashmeade, who respectively finished second and third behind Usain Bolt at their national trials in Kingston.
European champion Christophe Lemaitre of France pulled out of the meet to focus on training while Bolt skipped the Diamond League event.
Gatlin edged Bolt by 0.01sec in Rome last month, the only sprinter to beat the six-time Olympic champion this season.
"I feel like I'm No1, that's my thought," Gatlin said with a grin. "My mum thinks I'm the No1."
Gatlin will be Bolt's main rival in the 100m at the Moscow worlds, which start on August 10.
In the men's triple jump, Olympic and world champion Christian Taylor competes against Pedro Picardo of Cuba. Picardo is only 20 but he's the 2012 junior world champion and leaped a world-leading 17.69m in Havana last month.
Barrett will be up against two veterans in Monaco, Olympic champion Anna Chicherova of Russia and two-time world champion Blanka Vlasic of Croatia.
In the women's 100m hurdles, Olympic and world champion Pearson will compete against Kellie Wells of the US, who finished third last year in London. Brianna Rollins, who set a world-leading time of 12.26s at the US trials, and heptathlon Olympic champion Jessica Ennis of Britain both pulled out.
The Herculis meeting is the 10th leg of the Diamond League.
AP