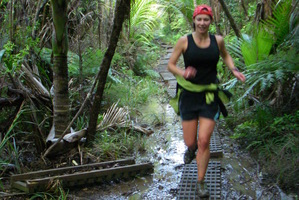 It's a story that sums up the spirit of the Blackmores XTERRA Auckland trail run / walk series.
Tess Birkbeck, a 30-year-old teacher who is a newcomer to the series in 2013, turned up to the Riverhead event in June but forgot her trail shoes.
"The course was muddy from the rain and I love mud so was pretty bummed to be attempting it in road shoes, it would have been pretty dangerous too," said Birkbeck, who has a sporting background in dance and triathlon.
She happened to be at the inov-8 shoe stall pre-race and explained her plight to the ladies in the stall.
"One lady asked me my size and said she was wearing a 9.5 but the other woman she worked with was wearing my size."
That woman took off her shoes and gave them to Birkbeck to use for the race.
"I was ecstatic, the gesture was just the spirit of which makes bush runners the types of people you want to run with. It was the best run in a great pair of shoes."
Birkbeck got into running when she realised it was her weakest discipline in the triathlon. She joined the Glen Eden Harriers running club.
"Having loved being a part of the club, it soon became my main form of fitness. Within the club, there is a group of us who head out in the Waitakere Ranges and seek adventures bush running."
It has also been something she loves to share with her partner. They both signed up for the XTERRA Series and it has proved a great motivator.
"We needed a new goal and knowing that we have an event every three weeks gives our training a structure. It feels good to observe the improvement in fitness and challenge yourself."
Birkbeck and her partner run in the "long" series (16-20km) as they get back into fitness. They do most of their training together but on race day run their own event.
"It's a great way to spend time together, we have seen some beautiful places around New Zealand, places few people explore and it's something we both love to do."
The series attracted 1000 runners at Riverhead and around 5500 athletes will compete in the six-race series that spans four months. Birkbeck said the XTERRA Series has a special atmosphere.
"You access trails you wouldn't usually be able to get to, there is good people, and a free organic sausage and a beer at the end! It's something I really look forward to and I'm guaranteed to feel satisfied at the end."
The feeling completing a race is always a great natural high.
"It's the runner's drug of choice - endorphins - a feeling of total satisfaction."
She said when that last hill looks too steep, or her minutes-per-km keep stretching out, the same thing gets her through.
"I know that somewhere ahead of me, my partner has fought the same battle, and he'll be there to cheer me on with a sausage in hand, and just maybe ... give me a head start in the massage line!"
Asked for advice to other couples looking to stay fit together, Birkbeck said: "Do something that makes your heart sing with happiness. Join a group or a series because it will help motivate you.
"If you enjoy being outdoors come along to an XTERRA event and try it out ... you might even find yourself covered in mud and laughing ... I will most certainly be there with you."
XTERRA
Blackmores XTERRA
Auckland trail run / walk series
May 19 May to September 1
Event 4: Woodhill Forest - Sunday, July 21
Event 5: Waharau Regional Park - Sunday, August 11
Event 6: Hunua Ranges - Sunday, September 1
Event Options:
• Short (5-8km) walk or run
• Mid (10-14km) walk or run
• Long (16-20km) run only
• Super-Long (20km+) run only For more information visit: www.trailrun.co.nz