Women-only run takes in island's views, beautiful bush and topography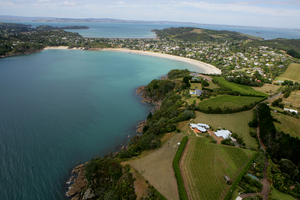 Women of all ages and abilities are encouraged to take on the inaugural Wild Woman Waiheke walk and run tomorrow as the island welcomes a new series of running events.
Two Waiheke locals, Sarah Gloyer and Ann Brown, of Synergy Sport Events, have designed a new series of events in 2013, and into 2014, to meet the demand in the growing trail-running population. They are looking to build the island's reputation as a great host of running events.
"We saw there was a huge gap in using this most beautiful island to promote activities that encourage people to take charge of their own wellbeing," said Gloyer, whose weekly runs have seen nearly 30 local women in the past 12 months take up running on the island.
The growth in membership of Waiheke Harriers added to the enthusiasm for more competition after the two events that have been staged there in the past few years proved successful.
"The Wharf2Wharf fun run and the Waiheke Walking Festival are both huge events that show people love coming to the island to experience the amazing views and topography," Brown said. "The ongoing expansion of the trails network this year offers more opportunities to locals and visitors alike to get outdoors - right through the year - not just in the summer months when the island is overflowing with tourists.
"We've created five trail events with distances and challenges for beginners through elite and extreme athletes. There's a race for everyone."
The Wild Woman Waiheke is the first. It is designed to be a great day out on the island with categories for individual runner and walker, for mother and daughter pairs, and for teams of four.
The 8km run is designed to encourage women to get out and try trail racing.
"While any course on Waiheke will be challenging, women new to trails are having fun with daring each other to jump logs, to clamber up hillsides, to simply enjoy the camaraderie and rewards of running," said Brown.
She said the beauty of Waiheke's bush is that it has hidden treasures, with a pond, dotterels, roosters and Muscovy ducks, streams and bridges, and steps, before opening up to the finishing stretch down the notorious fire break hill towards the line in Onetangi Sports Park.
"Completing this race will be a triumph for women who may have taken up running to lose weight, to be fitter, or simply improve their times because they simply dared to just do it."
There is a special prize for best dressed, and post-race yoga stretch sessions, massage, and pedicures will add a touch of pampering to round out a fun day for the women. Although men can't compete they will act as marshals and crew.
The 8km course is technical with a couple of steep hills thrown in to cut the chatter and test the fitness levels.
Wild Woman Waiheke
When: Tomorrow
Where: Onetangi Sports Park
Late Entries: Accepted between 8.30 and 9.30am tomorrow at Onetangi Sports Park. The Wild Woman bus will meet the 8.15am ferry from Downtown ferry terminal and take competitors to the start line.
For more information visit: www.wildwoman.co.nz
Waiheke Island events in 2013-2014
1. Wild Woman Waiheke: 8km trail run for women of all abilities.
2. Island Stride: a weekend festival from July 5-7. Specialist workshops with experts in real food nutrition, running mechanics and wellness, alongside a 10km trail race.
3. Muddy Amazing. Adventure race: Saturday, September 21
4. Waiheke Trailblazer off-road Marathon & Half Marathon: November 16, introduces the inaugural marathon from the bottom end of the island back to Onetangi Sports Park.
5. Round Island 100km Team Relay: on March 1, 2014. Elite and enthusiast teams competing against the clock and each other to cross nine way-points and the finish line between dawn and dusk.