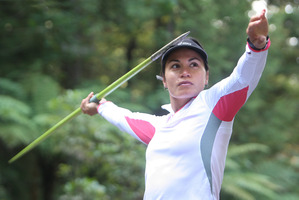 Q: Where did you grow up?
Rotorua. I loved growing up in Rotorua, it was a cool community, very supportive and I had a very active childhood running around in the backyard with my two brothers.
Q: Who was your sporting idol when you were growing up?
Bernice Mene - I was really into athletics and netball, and I sat next to her on a plane when I was going to one of my first big athletics meetings when I was 13, which I remember I was completely buzzing out about.
Q: Highly political question - Marmite or Vegemite?
Oh definitely Marmite. I bought my jar yesterday.
Q: Has athletics always been the focus for you?
Pretty much since my second to last year of high school until now it has been all about athletics. I did dip my toe back into netball recently, but at the moment it's all athletics.
Q: You gave the transtasman netball league a crack after London - where did you get to with that?
I was part of the extended squad with the Mystics, but I had to withdraw unfortunately because the commitments got a bit much. I haven't closed that door, but at the moment everything is focused on jumping high. I'll definitely be supporting the Mystics on Monday night, though.
Q: You've just made the switch from heptathlon to focus on high jump, how are you finding the adjustment?
I was just joking the other day with [New Zealand heptathlete] Rebecca Wardell about how much lighter my kitbag is and how much easier it is to travel and get to events. We used to travel the world together with 12 pairs of shoes and it's so much better with one or two pairs of spikes.
Q: Have you ever had an embarrassing fail in high jump?
At my first New Zealand Secondary Schools, I didn't clear a height - I remember being completely mortified about that at the time.
Q: Did you get to brush shoulders with any superstar athletes at the Olympics?
Seeing all the track and field stars at the warm-up track and seeing them in their craft was pretty awesome. But the dining hall was really the place to spot the global sporting superstars - the NBA players, people like that. It was awesome.
Q: Do you have a day job?
No, I train full time and do a bit of part-time study. I'm working towards a communications degree at AUT.
Q: What's been your worst injury?
I had really bad stress fractures when I first moved to Auckland and needed to get surgery on both my feet - that was probably the worst and most frustrating injury. The pins are just like you'd get at Mitre 10 - I can feel one of them, it's pretty gross.