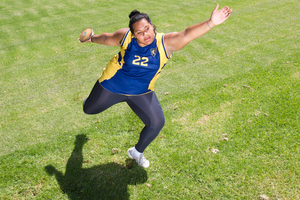 Siositina Hakeai threw herself into the record books and wiped out Beatrice Faumuina's long-standing Auckland Secondary Schools discus record in winning the Central zone title at Mt Smart Stadium on Friday.
The 18-year-old from Auckland Girls' Grammar School will return to the same stadium next Tuesday as a hot favourite to win the Greater Auckland title and continue her amazing run.
But, while she is winning on the field, her efforts were not enough for her to be recognised off it as ASB College Sport's track and field athlete of the year in 2011.
Overlooked for the award she won in 2010, Hakeai bowed to Rangitoto College pole vaulter Kerry Charlesworth, who was adjudged to be ranked higher (internationally) by the judges.
While Hakeai and her family accepted the decision, which surprised many, her school has challenged ASB College Sport in an effort to have her efforts recognised.
On the field, the quietly spoken Hakeai, New Zealand-born with Tongan parents, has blasted her opposition away. She holds the New Zealand under-16 record and is ranked 17th in the world at under-20 level.
In throwing 50.87m last week, she added 37cm to the record Faumuina (then at Lynfield College) set in 1992.
Hakeai is the New Zealand Secondary Schools senior shot put champion - she finished second in the discus at December's championships - and the defending Greater Auckland and North Island champion in shot and discus. At last year's England under-20 championships she won gold in the discus and silver in shot and took bronze in the European under-20 championships - as a 17-year-old.
Off the field the drama continues, however, as her school attempts to ascertain how the rankings were arrived at.
AGGS principal Liz Thomson says she does not understand enough about the rankings to have a clear picture one way or the other.
"What I don't want to do is make life difficult for Siositina," she said. "I don't understand the detail but maybe it needs to be looked at ... I don't think anyone has sat down with the people who made the decision to ascertain how they arrived at that."
College Sport representative Michelle McLean confirmed there had been a complaint from AGGS and that she had gone back to the person charged with coming up with the rankings and said the original decision had been reconfirmed.
AGGS says there appears to be two differing versions of how the decision was arrived at and wants clarity.
College Sport chief executive Manoj Daji confirmed an approach had been made but said he did not know the "exact details."
Mr Daji said that as far as he was concerned the matter had been dealt with.
That might not be the case however as the Auckland Secondary Schools Heads Association board, of which Ms Thomson is a member, is to meet tomorrow and there may be further discussion to resolve a matter which, on paper at least, deserves answers.