Sir Owen Glenn flies to US for urgent talks after directors of his family trust decide NZ can't have $80m.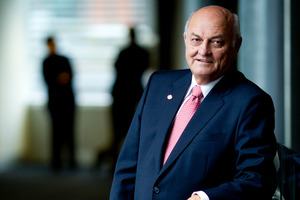 Philanthropist Sir Owen Glenn has been forced to freeze grants to projects aimed at ending family violence, apparently because of a dispute in his own family trust over how his fortune should be spent.
Sir Owen vowed last July to give one-tenth of his $800 million fortune to fighting child abuse here.
But the Weekend Herald has learned the money has not arrived. It is understood that the foundation has been told the overseas-based trustees believed it was no longer appropriate to distribute philanthropy in NZ.
Sir Owen, who built up his fortune in a global logistics firm, flew suddenly this week to the United States, where his son lives.
Former Auckland University Business School dean Dr Barry Spicer has resigned as chief executive of the Auckland-based Glenn Family Foundation, and one of its two other staff also left suddenly this week.
In a brief statement, Sir Owen said he had taken over as the foundation's chief executive and was "in discussions with the trustees" of his family trust, which is separate from the foundation, about the "timing" of the release of funds to the foundation.
A spokeswoman, Niki Schuck, said she could not comment further for "legal reasons". She could not confirm legal action had been initiated by one or more of the trustees, but said the dispute was not with other members of Sir Owen's family.
"It's a family trust. It's about the trustees, it's about the payments, it has absolutely nothing to do with his family," she said.
Otara Health chief executive Ingrid Minett, who has worked closely with the foundation over Otara projects that were promised $8 million by Sir Owen last July, said foundation staff told her this week that there might be delays in the distribution of funds.
"We have been reassured that they are totally dedicated to the Otara project, and that there may be some delays," Ms Minett said. "It may look a bit different to what we had planned a year ago, but it's going forward. It's basically some hold-up with some of the funds that are overseas."
The sudden hitch came just as a public inquiry funded by Sir Owen into child abuse and domestic violence is about to hold its first hearings at Waitangi next week.
Sir Owen had been due to attend the opening day on Tuesday, but told organisers late on Wednesday night that he would not be able to get back from the US in time.
Inquiry director Ruth Herbert said Sir Owen had given her a budget for the inquiry. Sir Owen said in his statement that the inquiry "is being funded by me personally" - apparently separately from the foundation.
"There are no concerns regarding my finances. In 2013, I will spend a great deal of time in New Zealand and consequently I have taken over as CEO of the Glenn Family Foundation.
"I'm committed to ending child abuse and family violence in New Zealand, which involves the Glenn Inquiry and various community projects in Otara. The inquiry is being funded by me personally and is well under way.
"The Otara projects are being funded by the foundation, which is funded by my family trust. I am currently in discussions with the trustees in relation to the timing of this funding being released to the foundation. It is a personal matter between me and the trustees."
Sir Owen, 72, was born in India and came to New Zealand with his family when he was 12. He built a global logistics business in the US, which he sold last year to a London-based private equity group.
He was knighted in the New Year Honours for services to philanthropy. The citation highlighted the $80m earmarked for reducing child abuse.
The Glenn Family Foundation was registered in New Zealand in 2010 with the purpose of relieving poverty and advancing other projects for the benefit of youth and the community in New Zealand and India.
The trust deed was amended last November to extend the foundation's work to the Pacific islands.
One of three other trustees of the foundation, Malcolm Stanley Gordon of Pakuranga, said he did not know anything about any legal action involving the family trust.
The other trustees, Matamata businessman William Bax and Sir Howard Morrison's daughter Donna Grant, of Rotorua, could not be contacted.
Last July, Sir Owen said he was committing $80 million, one-tenth of his personal wealth, "to the enterprise of ending child violence and abuse in New Zealand". The initial $8 million for Otara was a "pilot".
Ms Minett said Otara Health had already received some money. The foundation has also helped to pay for bike tracks and bikes at East Tamaki School and in Ngati Otara Park.
The Auckland Philharmonia Orchestra, which was promised funding for its Sistema Aotearoa programme for children in Otara, said it had been told that there would be a delay.
"We are sure Sir Owen's heart is still in it and we believe that he will do everything within his power to progress his vision for Otara," said spokesman Richard Betts.
Sir Owen also promised funding for e-learning and garden-to-table programmes in Otara schools but a principal said discussions were continuing and no schools had yet received funding for those.