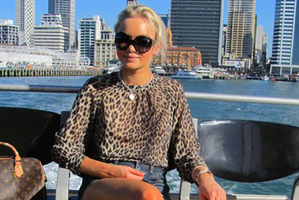 The mother of the accused killer of New Zealander Emily Longley has admitted in court that she removed a jacket from the bedroom in which the teenager died.
Anita Turner, 51, told a court she "did not even think about it being the scene of a murder" and took the coat to return to a family friend.
However, the prosecution claim the health care assistant removed it as her 20-year-old son had worn it on the night he allegedly killed Emily Longley, 17.
Turner repeatedly broke down in tears as she told the court she returned home under police escort to pick up clothes and medication the day after her death.
Wearing a black suit dress, she told Winchester Crown Court: "The day after Emily died, my husband and I went with two police officers to pick up belongings from our house.
"I went to Elliot's room because I saw a jacket had been left on the back of the chair Emily used to sit on.
"It belonged to a family friend and they wanted it returned.
"I swear to God I didn't think anything at all about it being the scene of a murder.
"I didn't even think I was doing anything wrong, I just went and put the jacket in the suitcase.
"There was no instruction from police about what we could and could not take.
"I tried to go back into the room but the police officer said I wasn't allowed. I was surprised because I thought he had already seen me go into the room.
"As I did up the suitcase I asked the officers if they wanted to check what I took but they didn't say anything, just made a note on a clipboard."
Mrs Turner also broke down as she told the jury she had promised Emily's grandparents she would "look after her."
She said: "I spoke to Emily's grandparents and that has upset me very much because I promised them I would look after her.
"I told them not to worry when she was under my care.
"Emily and I would go shopping together and it was lovely having another female in the house
"I felt I was getting close to her and she began to confide in me about her past."
Turner described "shaking and shaking and shaking" Emily on the morning of her death but "she would not wake up."
When the paramedics arrived she begged them to try to resuscitate her while her son paced around but they told her Emily had died.
She added that her son was "flashy, like his uncles who drive fast cars."
Also today Turner denied helping to cover up the alleged murder despite being played recordings of herself telling her son to claim it was "self defence."
She was questioned about what she meant when she was heard in covert recordings saying "she kicked you, she does kick boxing, it was self defence. Stick with it."
She told the court: "I don't know what self defence means. It's what they say in the movies when someone has a fight and an accident happens.
"When I told him to stick with it I meant stick with the truth."
The court also heard a recording of her telling her son that Emily had ruined his life.
He is heard saying: "I was always the one who looked like the bad guy but she caused it. That f***ing bird.
"That girl has ruined my life."
To which she replied: "She did, she did ruin your life."
TRIAL SO FAR
Emily was found dead in Elliot Turner's bed at the 350,000 pounds house on May 7 last year.
Jurors have been told he had become increasingly suspicious Emily had been having affairs during their four month relationship.
Emily changed her Facebook profile picture from one of them together during a three week holiday to New Zealand in April.
The court heard he later threatened to kill the blonde teenager and boasted to her "I will go to prison for it and still be a millionaire when I come out."
After the murder he is said to have written a letter of confession but it was destroyed by his father, Leigh Turner, 54, to "destroy vital evidence."
Officers made a series of recordings at the Turners' home between May 18 and June 14 last year.
Jurors heard the police bug recorded the family talking about "fabricating evidence and being worried about lying to police."
They then arrested the three family members and charged them in July.
Police scans of computers seized from the home found Google searches for 'death by strangulation' and 'how to get out of being charged for murder.'
The court heard pathologists who examined Emily's body found injuries consistent with asphyxiation, Turner had scratches on his arm and Emily had his DNA under her fingertips.
Emily was born in Britain but her family emigrated to New Zealand when she was nine and she was raised in Auckland.
She had returned to live with her grandparents in Bournemouth, to study for a business national diploma at Brockenhurst College, Hants, and worked part-time at Top Shop in Bournemouth.
She was also signed up to a modelling agency and had appeared on the front page of a magazine in New Zealand.
Elliot Turner denies murder but has pleaded guilty to perverting the course of justice. His parents both deny perverting the course of justice.
The trial continues.