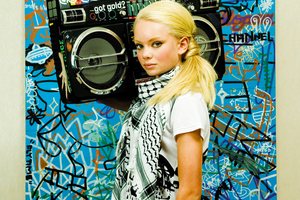 The jeweller's son accused of murdering New Zealand teenager Emily Longley replied "no comment" to every question he was asked by police, a British court heard yesterday.
Aspiring model Emily Longley, 17, was allegedly strangled by her boyfriend Elliot Turner, 20, in a jealous rage at his parent's home in Bournemouth, Dorset.
A jury in Winchester Crown Court has been told he was extremely possessive and attacked her during a drunken argument.
Yesterday, prosecutor Timothy Mousley told the jury: "Elliot Turner answered 'no comment' to all questions asked by the police.
"He was asked about the details of his relationship with Emily.
"He was asked about a text he sent to her, texts he sent to his mother and what happened on the night she died.
"He was asked about what he said to Emily's friend in the time leading up to her death.
"He was asked about having a mallet in a nightclub. But at all times he said 'no comment'."
EMILY'S DNA FOUND ON TURNER'S SHIRT
A forensic scientist who examined Elliot Turner's shirt, seized by police after Emily died, told the court he found both their DNA on the garment.
Nicholas Oliver, a forensic scientist at LGC Laboratory, examined the shirt for signs of body fluids.
He described an area of Nasal material or mucus found on the back of right sleeve and said DNA profiles obtained from the mucus belonged to Elliot Turner and Emily Longley.
He did not know how the material was deposited on the shirt, but it was likely to be "a recent deposition".
"It's possible it could have got there by her sneezing or it's possible she could have transferred the DNA from her clothing to his shirt."
'FACE MASK' FOUND ON PILLOW
Another forensic scientist described finding a 'face mask' on the pillow of a bed where Emily died.
Darryl Manners, a forensic scientist at LGC laboratory, told the court how he examined the beige pillow case taken by police from Turner's house.
He identified to the jury several marks on the pillow and told them his interpretation was they showed two eyes, a nose and a mouth.
Mr Manners said: "It is apparent that face-type marks were left on the pillow case that was taken from Elliot Turner's house.
"I found on the pillow case very small particles of a pink substance with a chemical composition typical to that of lipstick.
"There is also a black mascara-type material corresponding to the eyelids region.
"The pink lipstick-type material was also similar in chemical composition to swabs taken from Emily's face and neck."
He said he studied the swabs and compared them to make-up materials and cosmetic foundation substances found on Turner's shirt.
CROWN CASE OUTLINED
Jurors have been told Turner had become increasingly suspicious Emily had been having affairs during their four month relationship.
Emily changed her Facebook profile picture from one of them together during a three week holiday to New Zealand in April.
He then allegedly left a message on a friend's voicemail saying: "She changed it to her flirting with some other lads and made me look like a nob."
The court heard Turner later threatened to kill the blonde teenager with a lump hammer and boasted to her "I will go to prison for it and still be a millionaire when I come out."
After the murder Turner is said to have written a letter of confession but it was ruined with bleach by his father, Leigh Turner, 54, to "destroy vital evidence."
Turner was arrested following her death on May 7 last year but then released on bail.
Jurors heard a police bug of the 350,000 pounds Turner home in the affluent Queens Park area recorded the family talking about "fabricating evidence and being worried about lying to police."
The court was told that after the death, Turner's mother, Anita, 51, removed from the house a coat her son had worn on the night of Emily's death.
Police scans of computers seized from the home found Google searches for 'death by strangulation' and 'how to get out of being charged for murder.'
Officers made a series of recordings at the Turners' home between May 18 and June 14 last year.
They then arrested the three family members and charged them in July.
The court heard pathologists who examined Emily's body found injuries consistent with asphyxiation, Turner had scratches on his arm and Emily had his DNA under her fingertips.
Emily was born in Britain but her family emigrated to New Zealand when she was nine and she was raised in Auckland.
She had returned to live with her grandparents in Bournemouth, to study for a business national diploma at Brockenhurst College, Hants, and worked part-time at Top Shop in Bournemouth.
She was also signed up to a modelling agency and had appeared on the front page of a magazine in New Zealand.
Elliot Turner denies murder and perverting the course of justice. His parents both deny perverting the course of justice.
The trial continues tomorrow.