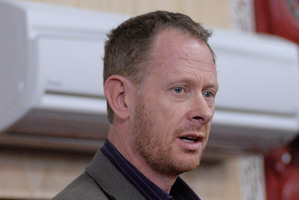 A 45-year-old mountain biker has this morning admitted assaulting another cyclist on Christchurch's Port Hills.
Aaron William Dalton appeared in the Christchurch District Court and pleaded guilty to the bike rage assault of Jordan Brizzell.
It was Dalton's first appearance.
Jordan Brizzell, 24, claimed he was attacked by another cyclist who wouldn't let him pass on the popular Flying Nun trail in the Port Hills about 4.40pm on April 8.
The incident was captured on his helmet-mounted camera and went viral after being posted online.
Dalton's lawyer Jonathan Eaton asked for the assault conviction to not be formally recorded until Dalton meets with Mr Brizzell for a restorative justice conference.
Judge Oke Blaikie agreed and remanded Dalton without conviction until July 23.
He was released on bail with conditions that he live at his current Christchurch address and and have no contact with Mr Brizzell until the restorative justice conference.
Outside court Dalton rushed to a car with a supporter and refused to comment to waiting media.
However his lawyer Jonathan Eaton said his client had been humiliated "out of an incident which was a couple of guys having a spat on a mountain bike track".
"Why, just because something happens to be downloaded onto YouTube, does it become a nationwide public interest story?
"All we are going to find is everybody wears cameras and takes cameras because they might be able to put themselves in the media."