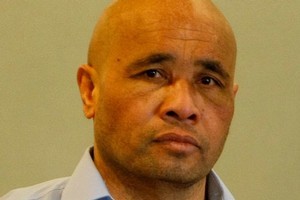 The man who murdered Good Samaritan Austin Hemmings in central Auckland spent eight years in an Australian jail for stabbing and killing his estranged girlfriend.
He was also jailed in New Zealand on three separate occasions for knife incidents dating back to 1987.
Yesterday, Pauesi Leofa Brown, 47, pleaded guilty to murder and assault.
He had been expected to plead not guilty and stand trial before a jury in the High Court at Auckland.
The Herald can now reveal that Brown repeatedly stabbed his estranged girlfriend in the neck and chest while they were living in Melbourne in 1992.
He was charged with murder, but the charge was reduced to manslaughter and he was convicted in December 1993.
Mr Hemmings' brother Craig said last night that a man with Brown's convictions should not have been on the streets. "It would alarm any New Zealander and, I would think, any sensible person."
Mr Hemmings' widow, Jenny, said the guilty plea "has saved us all two weeks of trauma".
With Brown locked away, New Zealand would now be a safer place.
Brown's previous convictions were raised at a pre-trial hearing in the High Court last month, but were suppressed until yesterday.
Crown prosecutor Kevin Glubb told the hearing on October 14 that Brown served eight years for killing his girlfriend and was then deported.
Mr Glubb argued that the killing was relevant to Brown's attack on Mr Hemmings in downtown Auckland in September 2008 because Brown used a large kitchen knife to attack his girlfriend and had aimed for her upper left chest - the same spot in which Mr Hemmings was stabbed.
Had Brown's trial gone ahead, the jury would have been told of his Australian manslaughter conviction, and at least three other knife attacks by him in New Zealand.
The agreed summary of facts read to the court yesterday said that Diane Nonu, a cousin of Brown's through adoption, was a friend and work colleague of Brown's partner, Agnes Ioane, at a central-city call centre.
Ms Ioane had incorrectly told her the relationship had ended, and Ms Nonu made some negative comments about Brown.
On September 25, 2008, Ms Ioane and Brown had an argument.
Later that day, Ms Ioane sent Brown two texts urging him not to do anything stupid.
But about 5.15pm, Brown confronted Ms Nonu in Mills Lane, where she had gone for a cigarette.
She saw Mr Hemmings, who was coming from a nearby building at the end of his working day, and asked him for help and to call the police.
Mr Hemmings at first stood between Ms Nonu and Brown, telling her to run away. When she did and Brown chased her, Mr Hemmings told him to get away.
Brown stopped, took out a kitchen knife, walked up to Mr Hemmings and thrust the knife into his chest.
Mr Hemmings walked about 100m then collapsed, as the knife had punctured his lung.
Brown chased Ms Nonu, stopping the elevator she was getting into. He punched her in the head, then thrust the knife at her, but she was able to evade it.
She pushed Brown backwards, making him stumble. He tried to grab her, then turned and ran, throwing the knife into a rubbish bin.
In the first of Brown's previous knife attacks, in 1987, he got into a fight outside an Avondale sports club after he parked over a driveway.
An argument started, then Brown pulled out a knife and stabbed a man in the thigh and under his left arm.
He was found guilty of wounding with intent to injure and spent a year in prison.
Two years later, he attacked two people in a boarding house after becoming angry at not being able to find his girlfriend.
He kicked open a locked door and threatened the pair with two knives. He was jailed for a year and four months.
Mr Glubb said the third incident happened in 2004 when Brown, in his car, picked up a man he knew, before pulling over to the side of the road.
He got out of the car and went around to the boot, from which he took a large kitchen knife. He then opened the passenger door and tried to stab the man in the stomach.
Mr Glubb said one of the man's thumbs was partially severed, but he was able to escape.
Brown was convicted of wounding with reckless disregard and was jailed for two years and four months.
"He told police in explanation that when he gets enraged, he needs to vent his anger," Mr Glubb told the court.
Brown will be sentenced next month for murdering Mr Hemmings and assaulting Ms Nonu with a weapon.
Craig Hemmings said the Government needed to get tough on people like Brown who were prepared to carry knives in public.
Justice Minister Simon Power has said the Government plans to amend the Crimes Act to increase the maximum penalty for possession of an offensive weapon from two years in jail to three.
LIFE OF VIOLENCE
1987: Pauesi Brown attacks a man in Avondale, stabbing him in the thigh and upper chest. He is sentenced to one year in prison.
1989: Brown attacks two people in an Auckland boarding house, threatening them with knives. He is sentenced to one year and four months in prison.
1992: Brown attacks and kills his estranged girlfriend with a knife in Australia. He is charged with murder and is convicted of manslaughter and sentenced to eight years in prison.
2004: Brown attacks a man with a knife in his car in West Auckland. Sentenced to two years and four months in prison.
2008: Brown attacks and kills Austin Hemmings in central Auckland. He pleaded guilty yesterday to murder, and is to be sentenced next month.