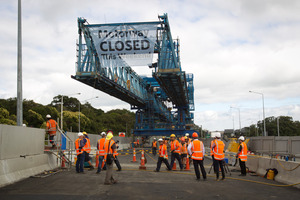 When will the gantry crane on the Newmarket Viaduct be removed, and where will it go next? Tony Kirschberg, Remuera.
Work began just last week on the dismantling of the structure known by some as "Big Blue".
The gantry - which weighs almost 860 tonnes and is 140m long - has been a part of Newmarket's skyline for almost four years.
It was shipped from Hong Kong in 2004 to construct the Waiwera viaducts on the Northern Gateway toll road before being moved to Newmarket.
It will take four weeks to dismantle the launching gantry. It will be stored in shipping containers until it is required for another project.
Why are the clearway zones on Auckland roads still from 7am till 9am and 4pm till 6pm? As far as I can recall, the times have been this way since the 1970s. It seems the transport planners may not realise that the busy period now extends from 6am till 10am and 3pm till 7pm in many areas.
There are probably many areas with clearway zones that need to be looked at, but Gillies Ave, Pah Rd, Manukau Rd etc would be a good starter. Who is responsible for this and how would we go about getting some attention? Brian Gibbs, Auckland, and Julia Newall, Herne Bay.
Auckland Transport is the body responsible. The times of clearway zones are typically 7am till 9am and 4pm till 6pm as these tend to be the times when parked traffic causes most disruption to commuters and to buses.
There are, however, a few variations to these times around the city where it has been identified that there would be benefits in operating the clearways at different times. Clearways are usually introduced where a complete ban on parking is not desirable, such as a need for resident, shops or business parking.
Auckland Transport can be contacted through the contact centre on (09) 355-3553 or via the website under Contact Us where you can log a request using the online form.
When will the next phase of the works start on the notorious Hill St intersection in Warkworth? Anne Jones, Warkworth.
The NZ Transport Agency is working with Auckland Transport on a programme of works to improve the wider transport network in the Warkworth area, which includes Hill St. The NZTA says it should be able to announce more details after a couple of key meetings this month.