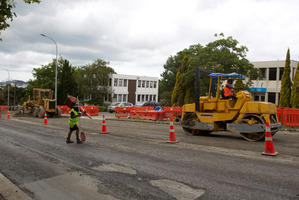 Are there any plans to improve Mountain Rd in Henderson? The road is well used but is in a shocking state, narrow and poorly surfaced. There was a slip on the road some nine months ago, and this has not been repaired yet. Margaret Wood, Henderson.
The answer is yes, says Mark Hannan of Auckland Transport, and the work is expected to be completed by the middle of June. There have been delays owing to the high-risk geographical nature of the site. It has been a challenge to get an acceptable design and the final review of the design is now under way. Funding has been secured from the Transport Agency and the tendering process has been fast-tracked so work can start as soon as possible.
We have recently purchased an 11m bus that has been converted to a motorhome. Occasionally we need to park in busy shopping areas and the options for parking the bus are limited. My question relates to the legality of using bus stops for short-term parking. Are private buses permitted to use these stops? Along the same lines, what about the use of bus lanes at traffic lights? Mike Clarke, Auckland.
No, I'm afraid not. Only passenger licensed buses on scheduled services may use marked bus stops. Otherwise, you risk a fine or having your vehicle towed. Similarly, you may not use bus lanes at traffic lights or in any other situation.
Out on the open road there are many passing lanes, for example in Northland on SH1 between Waipu and Brynderwyn.
With the two northbound lanes the left-hand lane has a solid white line to the left and the white dashlines on the right. The right-hand lane has a solid yellow line on the right with a white dash line beside it.
I take this to mean that I cannot use the far right lane heading north.
However heading south I have no yellow line on my right which I take to mean that I am able to pass using all three lanes.
If I am heading south and begin an overtaking manoeuvre using the centre lane, does the car heading north have the right to insist that the centre lane is his to overtake because the yellow line stops him using all three lanes?
I have been flashed several times in this type of situation and of course I must avoid a head-on crash at all costs. Peter Aickin, Northland.
In the case you outline, I take it to mean that you would be using the third lane (northbound) to pass two lanes of traffic heading south. According to the road code, if there is no solid yellow line on your side of the centre line, you may use the centre lane to pass as long as there are no vehicles in that lane, and you can see 100m of clear road in front of you for the whole time while you are passing. Don't use the centre lane to pass if there is an oncoming vehicle in that lane.
In my opinion, what you suggest is a potentially dangerous manoeuvre, and if possible it should be avoided.