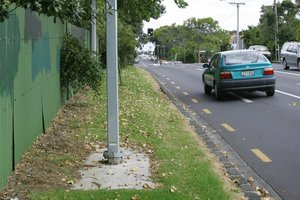 I live in Abbotts Way close to the new traffic lights in Lunn Ave. Abbotts Way has become very busy. I have noticed a heavy vehicle parked on the side of the road every evening obstructing vision for motorists and cyclists alike. It is even more dangerous for cyclists to pass this vehicle given the heavy traffic. Are there any parking restrictions for heavy vehicles in residential and busy areas? Sumitha Kaluarachi, Remuera.
It seems not. Heavy vehicles may not park close to a pedestrian crossing, but there seems to be no bylaw restricting parking in a residential street. In the old Auckland City Council bylaws, there is a clause that allowed the council to put a restriction in place on specified roads if it felt the need. Perhaps Auckland Council could follow suit in this case.
Is there any restriction on the use and length of time a dealer plate can remain on one car? There is a 7 series BMW permanently parked at a residential address, with a plate surround indicating that it is owned by a small second-hand dealer.
Peter Patten, Takapuna.
The rules regarding the use of trade, or dealer, plates are very clear, and are set out on the Transport Agency website. You can apply to the Transport Registry Centre in Palmerston North for a set of trade plates. You must state clearly the use for which you require the plates, and then use them only for that purpose.
You can apply for plates if you are a motor vehicle trader, manufacturer or assembler, a car wrecker with a second-hand trader licence, a deliverer of unregistered motor vehicles, a motor vehicle repairer, the proprietor of a motor museum, or a government department. There are also limited circumstances where local authorities and vehicle inspection certifiers may apply for trade plates.
If you are found to be using trade plates in a situation for which the plates were not issued, you will be fined if the vehicle is also unregistered and/or unwarranted.
I understand that several intersections will be considered regarding the impact on traffic flow as a result of the change in the give-way rule this month. I am curious to know whether the Grand Vue Rd/Hill Rd intersection in Manurewa will be considered. Marilyn Burton, Manurewa.
Sharon Hunter of Auckland Transport says that a list of intersections to be reviewed will go up on their website shortly. Keep an eye on www.aucklandtransport.govt.nz