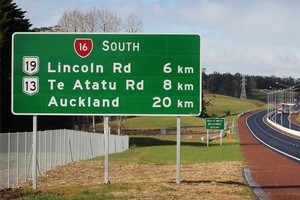 I have not yet met anyone who can negotiate the new roundabouts off the new Hobsonville Deviation Motorway heading west from the Greenhithe Bridge. Heading for Kumeu, we are completely bamboozled by the signs. Several friends have found themselves heading back to Auckland; others end up at Westgate. Which exit are we supposed to use. And why isn't there a sign that tells us?
Can you please ask the powers that be for an additional sign pointing to Kumeu to help, at least until people become familiar with the new layout? Carroll du Chateau, Kumeu.
I went out for a look, and my word, it is confusing. But here's how to do it, courtesy of a driver who negotiates this network regularly.
Once you are on the new Hobsonville Motorway (SH18) heading west, take Exit 9 towards Brigham Creek, and follow the signs to SH16 Helensville. At the first roundabout, take the exit marked Helensville (16) and do likewise at the next two roundabouts. This will bring you on to Brigham Creek Rd.
Travel along this through Whenuapai village and at the next roundabout, take the exit marked Kumeu.
I imagine there is no signage for Kumeu at the start of this journey because people understand that it is on SH16, the road to Helensville. But for newcomers to the area, it would be helpful, I guess.
I live near Owairaka Domain and some time ago I noticed a large gum tree in the domain had been felled. The larger logs had been cut into about 1m lengths and were piled together. The logs appear to be abandoned. Are members of the public allowed to remove the logs? Often, there are also fallen branches after storms. Are the rules for removing fallen branches the same? Danielle Ramsay, Owairaka.
Yes and yes. Auckland Council tree-felling contractors will often leave wood on site if it is too thick to fit through wood chippers. This wood is either left in manageable lengths or cut into firewood for the public.
Firewood left on site is for collection on a first-come-first-served basis. However, members of public are not permitted to use chainsaws or other equipment to cut up logs in council parks and reserves due to health and safety considerations.
Why is Davies Ave in Manukau closed? Davies is a thoroughfare between Wiri Station Rd and Ronwood Drive which was closed for a long period during 2010, and then reopened. When will it open again to traffic? Wayne Butler, Richard Reid, Manukau.
It's my understanding that this second closure of Davies Ave is associated with the new Manukau rail link. The line will link Davies Ave with the Southern railway line at Puhinui. The track will run under Lambie Drive and Plunket Ave and across Hayman Park. The $50m project is being built for compatibility with the future electrification of the network. Part of the rail link will run inside a 300m trench beginning at Lambie Drive and finishing at Davies Ave, with a new station there. It is hoped that the line will be open by February.