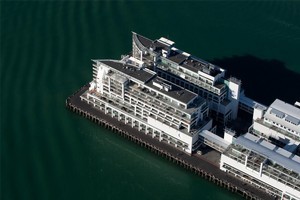 At lunch near the waterfront a week or so ago, we were admiring the cruise ship berthed at Princes Wharf. The sight inspired one of our number to ask why some ships berth bow-in, and others berth stern-in. We wondered if it was for ease of refuelling, or perhaps wind direction during the berthing process. Can you help?
Bill Davidson, Mt Eden.
Leigh Robins from Ports of Auckland says there are any number of reasons why ships berth the way they do. Most of them prefer to berth bow-in as the ship looks nicer this way. For some vessels it may be due to where the door openings are; for example, a suitable gangway opening or storage door may be only on the port side. For the Pacific Pearl the other week, the captain had asked to berth this way so the crew could undertake some work on the port side and it was easier to do it from the wharf rather than the water.
If I am exiting the Countdown carpark at Eden Quarter on to Valley Rd and wish to turn right, do I have to give way to traffic on Valley Rd approaching from my left and indicating they wish to turn right into Countdown? Personal safety indicates it is best I wait, which is what I do, but I am interested in the legal position.

Mike Fox, Mt Eden.
The road rules state that the entrance to a public carpark such as that belonging to a supermarket or hospital counts as an intersection where it meets a road. As such, the rules that apply to uncontrolled intersections also apply here. The turning car on your left should give way to you, as you are on the right. However, as few people seem to know, understand or obey this rule, personal safety is always a sensible option.
I have a question about trucks that carry farm animals - sheep, cattle, pigs, goats etc. I was following one the other day and noticed that it was discharging a yellow fluid from the rear of the truck, from what looked like some sort of drain. Could this have been waste from the animals being poured on to the road?
Tom Rowlands, Waitakere.
Oh yes indeed. It would have been exactly what you feared it was.
Effluent disposal from stock trucks is a problem. Most trucks do now have holding tanks, but when these overflow, the yellow fluid results. Stock truck drivers are asked to use the effluent disposal facilities around the country on main highways, and also to empty tanks before they leave stockyards or freezing works. However, some of the latter do not have disposal stations, and if the distance between disposal points on the highways is too great, overflow happens.
A quick browse of the internet shows that most councils are aware of the problem, but as effluent disposal stations can cost as much as $450,000, it's an expensive exercise. My suggestion? Don't follow a stock truck too closely.