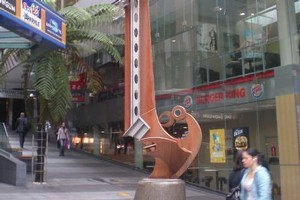 Now that the local body elections are over, what happens? Is the new Auckland Council in business yet? Peter Morris, Mt Eden.
Not quite. Nothing can happen until the final results of the elections are promulgated, which should be later this week, all being well. Even then, little will change before November 1, when the new council, local boards and council-controlled organisations (CCOs) officially come into being. In the meantime, it's business as usual.
At the corner of Swanson and Queen Sts there is a most interesting sculpture. I believe that it marks the original foreshore of Auckland and is related to Maori activities in that area. Are there any plans to have an explanatory plaque there so citizens and tourists can understand and appreciate the sculpture? Stuart McNab, North Shore.
Auckland City Council is under the impression that there already is a plaque there, with the title of the artwork on it. There may well be, but it would be hard to tell, because of all the swathing that is in place at the moment to keep the sculpture safe from the predations of the builders working on the nearby building.
As you can see from the photo supplied by the council, the sculpture, called Te Waka Taumata o Horotiu, or Resting Waka, consists of a taurapa (stern post) and a tai-ihu (prow). The tau-ihu represents a resting bird with its beak pointing back towards its tail. The flock of birds surrounding the top of the taurapa suggests either a cloud (Aotearoa) or the abundance of food in Tamaki Makau Rau.
The sculptor, Fred Graham, explains that on this particular site was a beach on which Ngati Paoa kept their canoes. A number of ancestral canoes passed through the local waters, with Tainui being the most prominent. The proverb "Mokau ki runga Tamaki ki raro" defines the tribal boundaries of the Tainui canoe, with Mokau in the south being the prow, and Tamaki Makau Rau in the north representing the stern.
Although the council has no plans to add an explanation to the plaque, descriptions of all the council public artworks are available on the website aucklandcity.govt.nz
For some time there has been flooding on the corner of Nottingham St and Warnock St in Westmere. This happens in moderate rainfalls and blocks off one side of the street. There is a drain at the intersection but it doesn't work. Can you please find out the problem and the cure? Rob Swan, Westmere.
The intersection is in the process of being upgraded; in fact, the work may be finished by now. The old clay pipes were blocked with roots and could not be cleared.
The three catchpits around the intersection are being replaced, and two new manholes installed downstream, connecting to the manhole. HDPE (high-density polyethylene) pipes are being used near tree roots and service ducts to minimise damage to the trees.