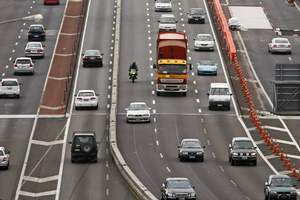 Q. I notice lane addition work in progress on the northbound approach to the Harbour Bridge from the city. Will this work include an offramp just before the bridge? It could peel off and curve round to connect up with Shelly Beach Rd. Having recently witnessed the hair-raising antics of a driver who had obviously missed the last city exit, I think a final exit, with a view of the bridge, would be very helpful for tourists and absent-minded locals alike. Kelvin Scott, Auckland.
A. I cannot find any reference to such an offramp on any of the Transport Agency websites. However, as the last exit to the city before the bridge is at Nelson St, a warning sign there would be a good idea, and, from observation, there would be room for one.
Q. Are there any plans to introduce a pedestrian crossing or even some traffic islands on Mt Albert Rd near the top of Kitenui St or Alberton Ave? There are a number of schools in the area and no safe crossing for students catching buses on Mt Albert Rd.
Barbara Adler, Pt Chevalier.
A. There is already a pedestrian refuge island at the Mt Albert Rd/Alberton intersection, and the council says it is used extensively by school children. However, they are happy to take another look.
Q. The council has been carrying out a considerable programme of footpath repairs along Ladies Mile and in the neighbouring streets. When, if ever, are they planning to do the same in Peach Parade? Michael Phanoulas, Remuera.
A. In the 2011/2012 year. The footpath folk from the council have trundled out for a look, and reported that while the footpaths in Peach Parade are surfaced with the older type of red chip, they are still in good enough shape to last until their scheduled upgrade.
To find out if your street is on the schedule, visit aucklandcity.govt.nz/auckland/transport/footpath/schedule.asp
Q. With reference to the Rugby World Cup, are there any plans to double-lane a section of St Lukes Rd, from the New North Rd/St Lukes intersection to Motat? This single lane section of St Lukes Rd is a bottleneck, and this has flow-on effects to the Northwestern Motorway and connecting arterial roads. Michael Gambitsis, Mt Albert.
A. No. Fans will be encouraged to use public transport to get to Eden Park.
Q. I live on Mt Albert Rd in Royal Oak, where traffic is heavy in the morning and late afternoon. Daily I see vehicles driving down the median strip towards the Mt Albert/Pah Rd intersection. The distance is anywhere between 300-400m. What is the maximum distance that a vehicle may enter a median strip in order to make a right hand turn? Ike Harris, Royal Oak.
A. You may only drive on the flush median to wait for a gap in the traffic after you have turned right from a side road or driveway, or to wait for a gap so that you can turn right.
There seems to be no hard and fast rule about distance, but you can only drive on the median for as long as it takes to get the gap you need. You may not use the flush median as an extra lane to pass other vehicles.