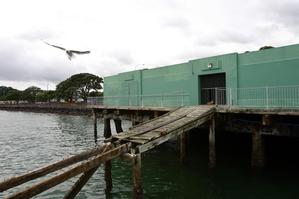 When the Hobson Bay dinghy lockers and ramps were demolished there was talk of replacing them in the future. Described at the time as "dangerous and dilapidated", I noticed it took three months with jack hammers to wreck them. Not bad for dilapidated buildings. But are there still plans to replace them? Wally Simpson, Oratia.
No. The building housing the dinghy lockers went up in 1939, at the same time as the Hobson Bay wave screen. The building was condemned for health and safety reasons in 2002, and demolished in 2004.
Spalling concrete had exposed the reinforcing in the building, chunks were falling off it, and there had been several arsons.
The launching ramp was pretty much unusable.
"Spalling" is not a misprint, by the way. It means breaking or causing to break into chips or splinters.
At this stage Auckland City Council has no plans to replace the lockers.
The council's current strategy is to focus facilities around existing amenities such as those at the Landing at Okahu Bay.
The traffic lights at onramps change quickly and I have observed that by the time most people go the lights are red again. My son was refused his licence for running a red light at an onramp in exactly those circumstances. Can you clarify the law regarding these traffic lights? Linda Outhwaite, Auckland.
The same rules apply to motorway onramp traffic lights as to any others. If the light is red, you wait.
When the light turns green, you move off, but not before. And, from experience, there is time to go before the light goes red again.
I am interested in what will become of the Waitakere Licensing Trust once the Super City is formed. John Mules, West Auckland.
Nothing at all. Licensing trusts are not affected by the amalgamation of city, district and regional councils. Nor are district health boards, or any other ad hoc bodies of that type.
Can you please help clear up confusion at the intersection of Domain Drive and Stanley St? Drivers turning right into Domain Drive have a give way sign, drivers turning left don't. Who gives way here? Those turning right certainly think they do! Bill Hicks, Auckland.
Well, they don't. Here, as at any other intersection, vehicles on a give way sign must give way to all other vehicles except those at a stop sign.
But, just to be clear, I went out for a look. It was a nice day, after all. And I found that at the intersection of Lower Domain Drive and Stanley St, traffic coming from the hospital and Grafton does not actually turn right, but goes across Stanley St to get to the Domain.
And it does indeed have a give way sign, so it must give way to traffic turning left from Stanley St into Lower Domain Drive.