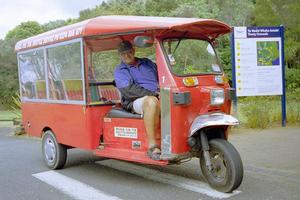 Each week, new sets of traffic lights pop up all over Auckland - two very recently in Broadway, Newmarket, and near the Dominion Rd flyover.
In most cases there is no rhyme or reason to the phasing, causing congestion, increased pollution and frustration for motorists, who may run red lights.
Who is responsible for the installation and phasing of lights? Can I get involved in the process instead of just whingeing about it with friends? Chris Rollins, Auckland.
Auckland City Council is responsible for all traffic signals within its jurisdiction. Signals are considered only after an assessment of traffic demand and volumes, delays on both the main route and side roads, pedestrian safety and the number of crashes.
Signals are generally a last resort where, for example, a roundabout is just not feasible. And yes, you can have your say.
You can either write to the council (Private Bag 92516, Wellesley St) or your local community board (c/o the council), send a message via the website aucklandcity.govt.nz or phone the call centre on (09) 379-2020.
From observation, the lights at the corner of Ian McKinnon Drive and Piwakawaka St, by the Dominion Rd flyover, have not caused any congestion or problems.
The roadworks on the corner of East Coast and Carlisle Rds at Northcross appear to be removing the free left turn. What is the rationale behind it? Edith Cain, North Shore.
The left turn slip lane is indeed going. There have been safety issues associated with the free left turn, through lack of visibility for motorists and pedestrians. Residents of a nearby retirement home have had several near-misses.
The improvements include a double right turn from East Coast Rd into Oteha Valley Rd, pedestrian signals for East Coast Rd, south of the intersection, and a cycle advance stop box on Oteha Valley Rd. Removal of the left slip lane should not hinder traffic flow.
I'd like to know about these tuk-tuk bicycles being ridden around the CBD with passengers in the back, usually sightseers. What law applies to the riders? I have seen the tuk-tuks on the road, on the pavement among pedestrians, and crossing the road at pedestrian lights.
I saw one go across the pedestrian Quay St crossing and into the vestibule of the Ferry Building, where I had to quickly step aside to avoid being run down. Neil Head, Pt Chevalier.
The same rules apply to tuk-tuks as apply to cyclists. Any issues with them should be reported to the police.

* Last year, we asked for submissions on Auckland's worst roads based on physical condition and difficulties faced by drivers.
We gave councils your nominations, and they responded. Nominations for this year close tomorrow, so email suggestions to askphoebe@ nzherald.co.nz
We'll pick the 10 worst and try to get something done about them.