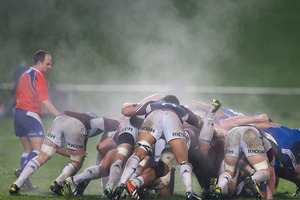 Q. What did you make of John Kirwan's decision to play a B team against France? There was a lot of talkback about it and most seemed to think it was a real shame. What are your thoughts?
Wayne, Ruakaka
One quick note, with Steven Luatua, Charles Piutau and Francis Saili not directly involved with the All Blacks this weekend I don't see what harm could have been done with them gaining some international experience by playing. Having said that, Wayne, I loved the game, love the concept and took my kids there and we all enjoyed the occasion. It was not Kirwan's decision to make his six All Blacks unavailable and I dislike the term 'B' team as I think it is really disrespectful to the players involved. What we saw at North Harbour Stadium was France vs Blues, the best teams on the night available from both sides. For the French players it was a chance to represent their country and get a rare win on New Zealand soil. For the Blues players it was an opportunity of a lifetime and for some, their first taste of international rugby.
Q. I'm worried about the lineout after the first test against France. This is your area of expertise so could you tell me please what happened at Eden Park and whether you think Dane Coles is ready to play hooker at this level? Also, I noticed that Retallick is great around the field but not so good in the lineout. Why?
Diane, Blenheim
Brodie was my man of the match, due to his incredible work rate on the night and his physical presence who, along with my other standout player Owen Franks, matched the French in that aspect of the game. Brodie topped the tackle count with 15 and did it all without the experienced support of Sam Whitelock. Our lineout issues, which had an overall success rate of 70 per cent, can be put down to a lack of timing and understanding, an easy fix with more time together. As a general rule, however, I would like to see our guys bound forward more aggressively to get in front of their opposite and drive their hands towards the ball to stop it becoming a contest and prevent any more over-throws. For Dane Coles, he is ready and we must give him time to establish himself. His speed and skills outside his core roles perfectly fit the All Black wide game plan. For every new player we can't compare them to their predecessors, but let them reach their potential in the unique All Black environment.
Q. Following on from your point about young talent in Northland, do talented kids in Heartland provinces have to leave as soon as they finish school to have a chance of making it in the professional game?
PK, Levin
My advice would be to stick around in the Heartland province for a few years out of school in an environment where there is a strong support network with people who know and can work on your game. From that base you can learn the art of rugby and progress to representing your province. The experience gained playing in the Heartland Championship is a good grounding in the skills required to take it to the next level. A move away would then be the next step as you follow your dream to an NPC union. This process may take a few years longer but will give you a better and longer career, which is what professional sport is all about. I strongly believe in our tiered system and feel you need to totally understand the intensity required at each level before moving up. Skip some of these and you run the risk of ending your career before it starts.