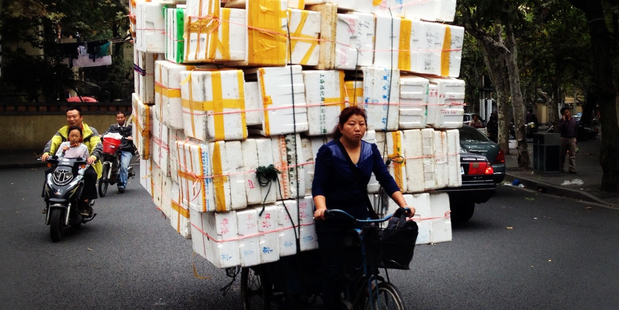 Going for a walk in the park takes on a different meaning in Shanghai.
The city is bursting at the seams with a population of more than 17 million in its core districts and millions more in the outlying areas.
It can seem like an urban jungle with towering buildings, and every major brand in the world has what looks like a factory-size headquarters in the city. You can feel overawed just looking around and trying to take in the size of everything.
But the centre of Shanghai is a world of contrasts, just streets apart.
You can buy a Ferrari less than 50m away from where you can buy a turtle in a bucket for a few dollars.
And if you stumble into a park it feels like you have stepped into a separate world.
It pays to rise early in Shanghai - that's when when a trip to the park has the most in store for a traveller.
A sense of community is evident as you wander through Xiangyang Park in the central city, while groups of elderly friends, acquaintances and cronies converge to take part in tai chi, water calligraphy, reading the newspaper, playing games of cards or a modified form of line dancing.
Some of these people could be in their early 80s but you wouldn't know it, given the way they move and, when you walk past the group who are stretching, you can see it is the secret to their active old age.
With its beautiful trees, the park has an air of tranquillity. It's amazing to see so much life within green surroundings in a city as bustling and busy as Shanghai.
The men sitting around a table playing cards appear to be arguing over the same points they have been debating for years - only the lines on their faces have changed.
The trees themselves are significant, and you can see people slapping the back of their shoulders against them in a form of massage that is said to help align the body's meridians; the pathways through which life energy flows. The locals believe they are absorbing some of the tree's life force, or qi.
Then there's the Shanghai Marriage Market in the People's Park where parents scribble down information about their children and put up notes, some accompanied by photos, as they try to match their kids with a potential spouse.
There are hundreds of options for the eager parents milling around the market looking for a match for their youngsters or just shooting the breeze.
At night the parks also turn in to ballroom-dancing venues where couples congregate to enjoy the art of dance.
Eventually hunger calls and it's time to leave the park and sample the street food.
You won't need much more than the change in your pocket to get a filling breakfast from a roadside vendor to kick-start your morning.
Before your eyes, your street-side chef will fry a pancake, add garlic, chives and sage before folding the creation over, adding hoisin sauce and a wonton wrapper for texture.
Using similar ingredients, a competing vendor will cook up a dough-based creation with egg, chives, sage and onion, which he will also smother in hoisin sauce.
It's a stodgy mix but the Chinese believe in a filling breakfast. So you can start the day on a full stomach and these concoctions certainly do that.
If neither of those take your fancy you can try a rice hash brown.
For this, yesterday's fluffy white stuff is deep fried and cooked to a crisp - it's fairly bland, but put some hoisin sauce on it and you can't go wrong.
CHECKLIST
Getting there: Air New Zealand flies daily to Shanghai.
Further information: See cnto.org
* Daniel Richardson travelled to Shanghai as a guest of Air New Zealand.