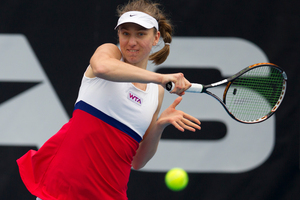 Few have seen Mona Barthel in action this week and they got only a fleeting glimpse of her today as she wrapped up her quarter-final against Sweden's Johanna Larsson in just 44 minutes.
It was the fastest match of the ASB Classic to date, and just a continuation of Barthel's easy passage to tomorrow's semifinals.
The eighth-seeded German has taken less than three hours to win her three matches, and has emerged as a genuine contender to win her second WTA title.
She has done it largely out of sight, confined to the back courts for the first two rounds before waltzing through today 6-2 6-1 against Larsson.
What the patient crowd at Stanley St today saw was a clinical display of efficient and sometimes powerful tennis. Standing at 185cm, the 22-year-old possesses a strong serve which defines much of her success or failure. If it's on, she's invariably on.
"It always has advantages and disadvantages to be tall,'' Barthel said.
"I'm just trying to work it out.''
Her serve conjures up memories of another tall German, Steffi Graf, who was Barthel's idol, and it is the memory of Graf and Boris Becker that has had the German public pining for another world No 1.
While compatriot Julia Goerges said this can sometimes be a burden, Barthel doesn't feel any pressure to succeed. Up until now, however, that expectation hasn't fallen on her shoulders as Angelique Kerber (world No 5), Goerges (18) and Sabine Lisicki (37) dominate headlines, but that could change if she continues that rise up the world rankings.
Barthel ended last year at 39 but has been as high as 31 on the back of her first WTA title in Hobart last January and semifinal appearances at both Bastad and Quebec.
"I went a different way to Steffi,'' Barthel said. "She played a lot of tennis and didn't focus much on school. I focused more on school, trying to finish that and play some tennis. I don't think you should see it as a disadvantage.
"It's great to have players like [Graf] in your country before. I'm really happy with the way tennis is. We have a lot of good players in Germany right now.
"I don't feel any pressure. If it happens, it happens. If I don't win a Grand Slam or anything, I don't think my tennis career would not be a good one. If I have matches like today, I'm happy. If I lose, I'm happy. This is the life I choose.''
It's working out reasonably well so far.
She won in Hobart after coming through qualifying and, co-incidentally, beat Yanina Wickmayer in the final _ the pair will meet in tomorrow's semifinal. It was part of a run of 10 consecutive wins that was stopped only by current world No 1 Victoria Azarenka.
This year has started with three wins so far, but Wickmayer will present an altogether tougher proposition.
"I'm playing really good tennis and, if I can play the same way tomorrow, I think I have a pretty good chance,'' Barthel said.
- APNZ