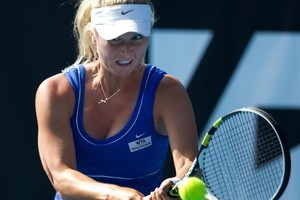 Kiwi-turned-Aussie Sacha Jones says she'd have been left practising in New Zealand if she hadn't switched allegiance this week.
Jones has made the perfect start to representing Australia, becoming the only local to win through to the main draw at the Hobart International with a 6-2 6-3 win over American Alison Riske.
It came just days after the 21-year-old officially opted to change her colours.
"(Tennis Australia) gave me a wildcard into this event so that's obviously one thing that's been really helpful, otherwise I would be at home just practising right now," she said.
"That's obviously just a fabulous start.
"It's actually been a really nice week to start and having the crowd support me because I'm an Australian is so cool."
Jones, whose father, brother and sister are Australian, carried dual nationality before deciding her opportunities would be greater representing the green and gold.
She said her call hadn't gone down well with everyone across the Tasman, but has shrugged off the criticism.
"All my friends and family have been really supportive, they fully understand why I've done it," the world No.274 said.
"Perhaps a few people who don't understand why have said a couple of things but it's just water off a duck's back."
Jones has three wins from four matches against women ranked higher than her so far in 2012, including her win over world No.136 Riske on Sunday.
She said she would head into the main draw with confidence.
"I've actually been playing quite well in practice and it's just learning how to put that into matches really," she said.
"I've started making a few little breakthroughs and hopefully I can just keep that up."
- AAP