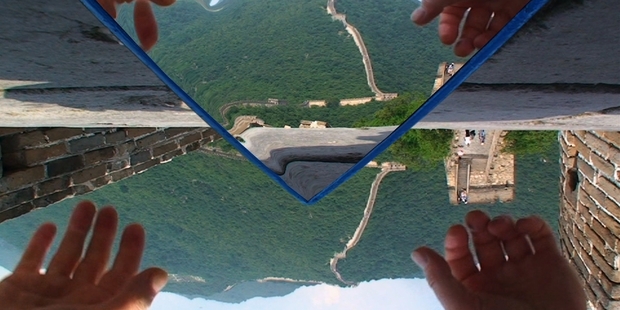 The variety of his work makes Phil Dadson really special. The differing areas of the new Trish Clark Gallery provide an ideal setting for the intermedia aspects of his achievements. The octagonal shape of the ceiling inspired a new work called Octet. Eight elegant red horns with speakers hang in a ring under the centre. Every few minutes they erupt with sound effects.
Sound is a large part of Dadson's practice. He has invented some instruments and his From Scratch percussive orchestra has been acclaimed here and overseas for decades. A 1994 film of a work for three players called Pacific 3,2,1, which was composed in 1982, is shown here as a video. Close to Polynesian drumming, its compelling rhythms are beaten out on tuned plastic downpipes. The output of energy needed by the players is part of its quality.
That film was directed by Gregor Nicholas. Videos made by Dadson himself also have special visual qualities. Some are close to home. Between Worlds follows a format he has used several times. The screen is divided by a V-shape extending down from the top like the prow of a boat. Sometimes it is a boat travelling over water.
At other times it complements the water and land with the sky. This one features the harbour and land near Hobsonville, with glimpses of planes in the background. The effect is visually fascinating and a plea for conservation of the beauty of harbour vistas.
Most spectacular of all, screened large on the gallery wall, is material recorded in the Atacama Desert in Chile. The camera's eye travels over the wide edge of a lake with snowy mountains in the distance. The lake is dry and the mud has broken into a crazed, irregular pattern. Close shots turn cracks into an abyss and a sudden inversion makes them the ceiling of a monstrous cave.
Eye, paper, hand, ink and wind all play a part in a typically original work of the interaction between people and nature in a recent work called January on 31 sheets of Japanese paper. Every day for a month coloured ink was placed on the paper to allow the wind to push it about. Seen as a group, the work of the wind is extraordinary. The ink ravels and spreads like the delta of a river and at times changes direction abruptly. Thirty images linked together, plus one shown separately, make a spread of unique documents, which have colour, grace and power. The show is a tribute to the unceasing invention of its maker.
That there is still place for traditional skills of drawing and painting is seen in the work of Michael Hight at the Gow Langsford Gallery in Lorne St. The show is the artist at his idiosyncratic and puzzling best. His careful and precise paintwork is used to create tableau against a dark background. His command over texture and materials can be seen in Hikurangi where three beekeepers (Hight has always been fascinated by beehives) work inside a construction of corrugated iron roughly shaped like a boat crudely nailed together. It would never float. In the middle of the structure is a chunk of rocky hill of the sort found near Hikurangi in the north. The reference may be to a place, once prosperous, now less so, but where people still toil to useful purpose.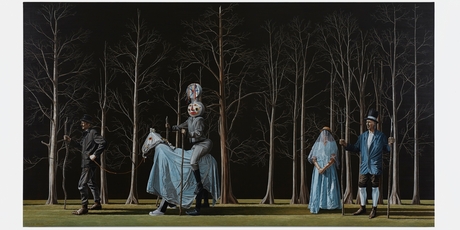 The largest work, Crossing the Line: Waihou, is widely open to interpretation. It contains faces characterised as portraits, though one figure wears an elaborate carnival mask and rides an improvised horse made by two men. A woman wears a delicately painted veil. The men wear splendid boots. Some rite of passage from truth to masquerade is suggested.
It makes a fascinating show open to speculation and wonder.
The two shows that make up the exhibition at Orexart have fewer levels of meaning. Dylan Lind paints vigorously with big dashes of coloured paint in complete turmoil shot through with patches of black. The works convey a sense of crisis. In some ways it is resolved by a big heap of wooden pallets combined with geometrical forms painted with the national colours of Venezuela. The paintings are images of political turmoil yet they are broad enough to include any emotional struggle.
Margaret Aull shares the exhibition with wood on the floor, chips from a series of carved masks. These are traditional Maori forms painted white. Racial mixtures are part of the other works in her show that are combinations of painting and collage. The Gods Must Be Crazy has a face cut and collaged to indicate cultural confusion. This confusion is best resolved in Matanui where the circular form concentrates the conflict.
At the galleries
What: Parallel Harmonies by Phil Dadson
Where and when: Trish Clark Gallery, 1 Bowen Ave, to July 26
TJ says: Famous works, plus recent new pieces, make up the sound and sight panorama of the widely admired processes of influential teacher and artist.
What: Crossing the Line by Michael Hight
Where and when: Gow Langsford Gallery, 26 Lorne St, to July 19
TJ says: With hyper-real images looming out of the dark, Hight creates intense situations linked to the land but with the strangeness of dreams.
What: Logic and Reason by Dylan Lind; painting and carving by Margaret Aull
Where and when: Orexart, 15 Putiki St, Arch Hill, to July 12
TJ says: Two shows of committed work, each reflecting conflict, both political and personal.