Changes in facial expression trigger a variety of emotions in masterly film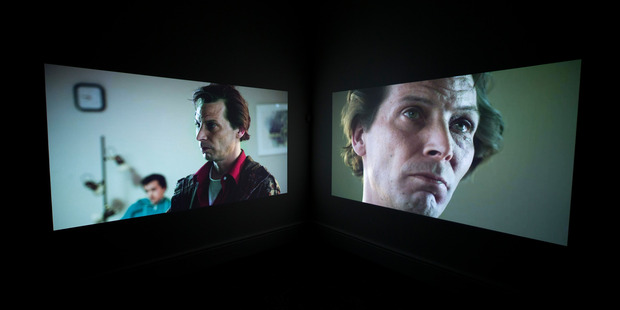 This is a week of collections at the galleries. Some of the most challenging work is at the Gus Fisher Gallery, which has two related shows. They opened with a bang in Shortland St with Rescue, a one-off piece of performance art by Jodie Salmond involving a wrecked police car, smoke, lights and a pair of bruised, bikini-clad models.
The smaller gallery hosts an enthralling work by Gabriel Lester called The Blank Stare. He is the international artist in residence at Elam School of Fine Arts. His work isolates and investigates certain tropes in film. At present he has a piece at the Sydney Biennale which is a small house lit from within with billowing curtains.
The work at Gus Fisher is rather more complex. It involves the unblinking gaze and the way we interpret slight changes in the faces of actors appearing in films. It is wordless but supported by sound and music by Job Chajes.
Actors of both sexes and different ages are seen in high definition on two screens and a mirror.
They move gradually through sets designed by the artist that show a waiting room, an institution and a prayer room.
Against these backgrounds the participants are seen in close up and we recognise slight changes in the corners of the mouth and the look of the eyes, as the subjects change from thought to speculation, to suspicion, to dreaming and wonder. In former days a manual for stage actors would give patterns of gesture to convey emotion. Here, in this distillation of film, a small change in the face registers big changes within. Taking glasses off is the only overt gesture.
A couple of historic Victorian images with very large open eyes contrast with the subtlety of film acting. A number of participants have a tight ring in their nose, giving overtones of oppression and capture. The closeness of the surroundings is also emphasised by the appearance of a goldfinch in a cage, which evoke the famous painting by Carel Fabritius of a bird chained to a perch, also the subject of Donna Tartt's recent much acclaimed novel. The whole is a quietly potent work, sophisticated in concept and masterly in its direction.
The student show in the main gallery is, understandably, less commanding. It is called The Wasteland, an evocation of T. S. Eliot's sombre poem. This is about our society seen mostly though electronic expression.
One exception to modern electronics is a little sketch of a scene in a brothel called Le Sphinx, done in 1937 by New Zealand-born James Boswell, and selected by the show's curator, Tim Wagg, from the university's collection.
The publicity for the show claims it is about masculinity in the modern world but it also claims that the artists are "purposely failing to depict power and identity". These confused aims make this a puzzling exhibition.
Other pieces include a video of a female mannequin in a bikini bouncing down a mountainside; an elaborate electronic mechanism connected to two small screens on which very little appears; a simple barrier of stained glass set between two rocks and a shed; and a floor and walls with unreadable text, which all have only tenuous links to the proposed theme.
There is a sense of grappling with the given idea, "a fabricated and uncertain masculinity", but the outcome is clouded except perhaps in a gymnastic one-off performance called Gun Dance where dancer Josh Rutter, after exhibiting his skills at basketball, shoots at his image on a mobile phone.
On the other hand, in Selfies at Orexart, the painters celebrate their own image. These are for the most part traditional self-portraits providing a recognisable likeness. The quality is varied and the only drawback problems with colour.
Veteran Peter Wichman addresses this by making his self-portrait a Study in Pink and Grey. His two small quiet works are muted but effective, unlike the violent cartooning of Joon-Hee Park in a portrait with gun and gorilla. One of the few that does not strive for a likeness is Peter James Smith quoting Milton, "When I consider how my light is spent", accompanied by a scribble of white. It seems a sad statement from a highly competent painter.
There are 29 self-portraits in all, making an entertaining show to anyone even remotely familiar with the artists. The most telling image that shows sheer pride in being a painter is Richard McWhannell in a white cowboy hat, with palette in hand. Rembrandt would have liked it.
Collections often contain curiosities as well as paintings. The delightful show of 55 works by artists at Anna Miles Gallery has some fine painting and other things that verge on the curiosity. Sarah Hillary is showing more than 100 white shells, each decorated with a delicate little design taken from fabrics. Richard Stratton wittily breaks all the conventions of modern ceramics with his >Made in China minimalist teapot and Arabs in Harrods urn. This unusual show is a celebration of copious creativity in a multiplicity of forms.
At the galleries
What: The Blank Stare by Gabriel Lester; Wasteland, curated by Tim Wagg
Where and when: Gus Fisher Gallery, 74 Shortland St, to May 3
TJ says: A masterly HD video shows how the slightest of change in expression can trigger a variety of emotions, while in a second gallery a group of students grapple to find fresh expression about the state of modern men.
What: Selfies by various artists
Where and when: Orexart, 15 Putiki St, Arch Hill, to April 17
TJ says: A dozen or more artists paint self-portraits in various styles and with degrees of success.
What: Many Venuses group show
Where and when: Anna Miles Gallery, Level 4, 47 High St, to April 20
TJ says: A dozen or more artists associated with the gallery contribute paintings, photographs, ceramics and curiosities across a spectrum of artistic endeavour.