From glitter paintings to yarn bombing, Danielle Wright rounds up what's on offer for crafty kids over the holidays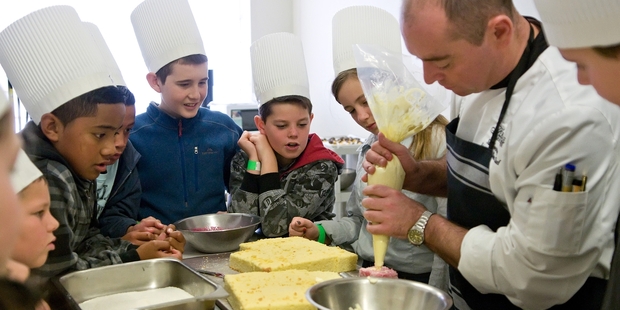 By the second week of the school holidays, everyone's in need of a bit of glitter, paint under their fingernails and a few good old-fashioned pipe cleaners. Here are some ideas to bring creativity into your children's lives and imaginations.
Wild about wool
"Young children love to knit and it's great for their co-ordination," says Crafty Knitwits' co-owner Linda Geor. "French knitting is a good place to start and we also have some beautiful novelty yarns in time for Christmas gifts, such as Cristallo with its glitter flecks and Bandel for a bit of frill at the end."
On a Wednesday night at Crafty Knitwits, you'll often find grandmothers, mothers and daughters knitting together at the weekly knitting groups. For $5, anyone is welcome to come along with their knitting and a tutor is on hand to help. There's also a crochet group on a Thursday night from 6.30pm-8pm.
"Knitting is very therapeutic," says Geor. "It exercises both sides of the brain, is very tactile and you get to be creative while making gorgeous gifts for friends and family."
For a kids-only lesson, try the Orewa Estuary Art Centre with its Fibre Art & Yarn Bombing class - perfect for the girls while the boys surf or use the skate park next door. Tutor Jennifer Kipfer also runs a literacy through knitting class at schools. The all-ages class is on October 9 from 10am-noon, $22 non-members, estuaryarts.org.
Petit Picassos
Tucked behind a suburban tennis court is the Mairangi Arts Centre, with a basement room filled with clay, tints and pottery wheels. It's the perfect place this month to learn how to sculpt baby animals (or monsters) out of clay or try the pottery wheel.
"Art is a window to the soul," says Mairangi Arts Centre's Lena Kovac. "It helps children discover the joy of creating. They often find hidden abilities and talents while getting away from digital screens.
"It teaches them to develop their imagination by using their hands and the right side of their brain."
The theme this holiday is everything spring: from a class dedicated to the colour yellow, to tissue spring flowers: budding artists will leave with a spring in their step, mairangiarts.co.nz.
The Lake House Arts Centre in Takapuna is a working studio, with expert lessons available, such as Teresa Watson's lace-look ceramics vases. Or get ready for Christmas with Stephanie Ray's gingerbread house class, making an intricate candy house out of a recycled box. Older children will love the pinhole photography class developing black-and-white images in a darkroom: lakehousearts.org.nz.
City kids can use the Auckland Art Gallery's free family drop-in sessions tomorrow between 10.30am and 12.30pm and Friday October 11 from 1-3pm.
There are also holiday workshops, such as a gallery tour discovering the world of animals in art, followed by a session where kids create their own large-scale animal drawings. Classes sell-out quickly, for bookings visit aucklandartgallery.com.
Country kids have Young at Art in Pukekohe, Waiuku and Drury with its child-focused art classes, such as how to make seascape weaving and fantail fish out of fabric, mixed media rocking robots and dancing dolls or cupcake collages, Young at Art NZ or phone (09) 238 1939 for bookings.
Kids more akin with the ocean should head to Voyager New Zealand Maritime Museum to create a giant taniwha by adding personalised scales to the taniwha's tail. Or dress up as a mythical creature with the help of Voyager's treasure chest of costumes for the photo booth on deck. The programme runs until Friday October 11 from 9.30am-3.30pm for children aged 4-12, maritimemuseum.co.nz
While you're in the neighbourhood, Workshops on the Wharf run every day next to the playspace in Wynyard Quarter from 11am-2pm, creating finger puppets and offering basketball, chalk and hoops.
Wynyard Quarter daily until Sunday, October 13, 11am-2pm. wynyard-quarter.co.nz
ArtSight in Eden Terrace has the Fantastical Structures class, where kids can paint a vibrant architectural composition based on the art of Hundertwasser (October 8, 1-4pm) or create glittery paintings based on the art of Reuben Paterson (October 11, 1-4pm). Classes $30. artsight.co.nz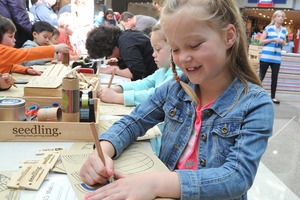 For free masterclass painting sessions visit Westfield malls Monday to Friday between 11am and 2pm. Master art classes every 20 minutes. There's also a Seedling Activity Centre, westfield.co.nz
Henderson's Corban Estate's art classes are so popular (for good reason) that most are already booked out, except for a class combining writing and illustrations using woodcut and pronto print - kids will gain experience working with an etching press, October 9 and 10, 10am-2.30pm, $70, ages 8-14, ceac.org.nz
Crafty cooks
Heritage Hotel Auckland has a Heritage Kids Rule High Tea two-hour class this Monday, Wednesday and Friday at 2pm. It's a culinary mini-masterclass for budding chefs over 5 years of age - $22 adults and $10 children (adults must accompany their child).
"Cooking isn't just about eating," says executive sous chef Sam Sweeney. "It brings a family together and should never be considered a chore, but instead a time to get together and be creative, while teaching a very important and fun life skill."
Places subject to availability, heritagehotels.co.nz
Albany's ArtBarnz has a beginner's guide to baking and decorating cakes for budding home bakers aged 8-16, $70 on Friday, October 11, 9am-3pm, artbarnz.co.nz
Pop into Smith & Caughey's kids' department on level two until Friday October 11 from 10am-3pm to create cake pops for free. There's an assortment of colourful icings, sprinkles and edible decorations for the little darlings to design a delicious cake pop for mum as she shops; 253-261 Queen St, Auckland City, smithandcaugheys.co.nz
Wood if I could
For the first time, Parnell Trust is featuring woodwork on its school holiday programme, and it's not just for the boys. They have activities such as building a birdhouse, picture frames and, for the younger children, birdfeeders.
The Wacky Woodwork Day is on October 9, 7.30am-6pm, with hammers, nails and wood shapes to build with and then paint.
It costs $55 for the day at either Parnell District School or Epsom Normal Primary School, for children aged 5-14.
Parnell Trust has an amazing assortment of classes, from circus skills to fishing trips to computer game design, open to all: parnell.org.nz
Follow contestants on The Block NZ and head to Bunnings for a bit of DIY for the kids.
The stores will be holding Grow Your Own workshops on Tuesday October 8 and Thursday October 10 at 11am; booking is essential, bunnings.co.nz