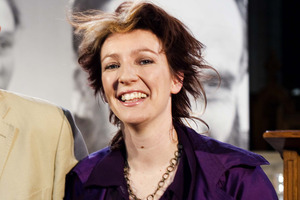 I have a long-standing crush on Jo Randerson, Wellington fiction writer/playwright/actor/dance creator/comedian/collaborator and all-round artiste. She breaks the fourth wall in art galleries. Her hair stands up like Einstein's. She writes sly, fun stuff. She asks big meaning-of-life questions in ways that are funny and not naff.
She excels at every one of her ridiculous number of vocations. She wears a clown nose around her neck, like a necklace of one large red bead.
She called her first child Geronimo. What's not to love?
She was recently in Auckland for the Arts Regional Trust's Survive & Thrive creative sector day, talking about the philosophy of clowning. Apparently the "essence of clown" is useful everywhere from the nursery to the corporate boardroom. The nose is optional. Instead, it's all about "being the dumbest person in the room" which "sets everyone else free to be as dumb as they are as well".
It's the opposite of acting cool or being a try-hard; if you're prepared to be vulnerable, everybody else relaxes, because they're no longer worried about being judged as unimpressive.
And, as the court jester, you can ask the stupid questions that everyone is thinking. Clowning turns out to both put people personally at ease, and stir things up politically. In Native American culture, Randerson says, clowns are valued for creating order through disorder by being "unafraid to say what needs to be said. If something is robust enough to withstand clowning, then it is a strong thing."
One clown method is to turn dominant ideas on their head. Where most of us may be looking for ways to do less work and make more money, a clown might ask: "How do I do more work and make less money?"
If you start thinking about reasons why anybody would want to do that, then the clown has done his or her job. Fearlessness - of looking stupid, of saying hard things - is a big part of being a clown. It's about letting your body "just go before your mind says 'that's a dumb idea"'.
Art, for Randerson, is at least as physical and intuitive as it is brainy: "Art is a way to help us release the truths we don't know that we know."
In a seeming irony, this woman talking of the importance of the body is one of the more intellectual creatives I know of. She has a jackdaw curiosity - collecting ideas and quotes everywhere she sees them, from physicists and historians as well as novelists such as Graeme Greene and Janet Frame - and it's her drive to learn new things that leads her from one creative medium to the next. But in the end, it's not paradoxical, because being in touch with one's physicality doesn't mean one has to let go of the smarts.
Instead, Randerson's inquisitiveness has led her to dance - she co-created Hullapolloi in 2011, and next month, on October 12 and 13, Aucklanders can finally see Maria Dabrowska's 2009 work Carnival Hound at the Tempo Dance Festival, which Randerson directed.
Bring your eyes and ears - and maybe your funny moustache.